Items 1 to 2 of 2 on page 1 of 1
Comfort
(limited heavyweight vinyl 2xLP + MP3 download code)
Cat: IAMMED 01V. Rel: 24 Mar 14
Minimal/Tech House
Comfort

Easier To Hide

Burning Bright (feat Kim Ann Foxman)

Dreamer

Blame (feat Nadine Shah)

Stranger

Everything (feat Karin Park)

Fall From Grace (feat Catherine Pockson)

Wait For You (feat Tricky)

When I'm In Love (feat Thomas Knights)

Take A Ride (feat Miss Kittin)

Come Home

Lost In The City

Keeper

Over

Protect Them

Stand Still
Review: Issued last year, Maya Jane Coles second album Comfort further established the producer's burgeoning talent for crafting genuine songs as well as supple, late night house music. Strangely given her chosen vocation, Comfort was never released on vinyl so it's great to see Ms Coles label I/AM/ME come through with a deluxe double LP edition. Those who didn't check Comfort first time round will be rewarded with plenty of music that conform to her tech-tinged, atmospheric deep house blueprint as well as some woozy, shuffling, downtempo pop songs featuring guest spots from Catherine Pockson of Alpines, Miss Kittin, Tricky and Karin Park. Maya Jane Coles fans familiar to its charms now have the chance to experience Comfort on heavyweight vinyl!
…

Read more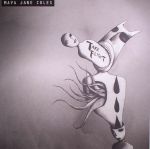 Cat: 405053 8297898. Rel: 28 Aug 17
Deep House
Weak (4:35)

Bo & Wing (4:48)

Old Jam (4:49)

Take Flight (4:17)

Darkside (feat Chelou) (4:21)

Lucky Charm (4:10)

Blackout (3:26)

Unholy (4:04)

A Chemical Affair (feat Wendy Rae Flower) (4:02)

Misty Morning (feat Wendy Rae Flower) (4:02)

Keep Me Warm (feat Gaps) (5:51)

Let You Go (3:28)

Won't Let You Down (5:00)

On My Way (3:08)

Go On & Make It Through (6:11)

Cherry Bomb (5:48)

Chasing Sunshine (4:41)

Golden Days (4:51)

Werk (4:39)

Passing Me By (6:14)

Trails (4:05)

Stay (4:35)

Pulse (4:44)

Starlight (6:08)
Review: Four years have passed since Maya Jane Coles' last full-length excursion (2015's set as Nocturnal Sunshine not included), so it's perhaps unsurprising that Take Flight is something of a long and undulating epic. Featuring 24 tracks stretched across three LPs and a string of eager collaborators (Chelou, Rachel Butt of GAPS fame and We Fell To Earth singer Wendy Rae Fowler being arguably the best known), Take Flight is little less than an extended showcase for the DJ/producer's particular bland of shuffling, tactile tech-house, tweaked to suit the demands of radio and home listeners. One reviewer recently described it "love letter to dance music", and Coles' many fans will no doubt agree.
…

Read more
Items 1 to 2 of 2 on page 1 of 1