Artists
Items 1 to 2 of 2 on page 1 of 1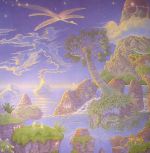 Cat: LR 074. Rel: 28 Mar 16
Ambient/Drone
O'Cean Dream (8:11)

Unfolding Atlantis (13:12)

Venusian Sunset (11:27)

Love's Harp (10:40)

Elven Invitation (10:39)

Dune Enigma (9:27)

The Vessel & The Voyage (22:22)
Review: Matthew David McQueen's Leaving Records is right up our figurative alley, and absolutely on point with everything that we love about quirky, cutting-edge electronic music. Being from LA, both the artist - McQueen appears here as MatthewDavid's Mindflight - and the label have their roots dug into the Stones Throw end of the hip-hop spectrum, but the music on Trust The Guide & Glide goes way beyond any simple sampling, and enters the realm of the quintessentially weird. The cover, a sort of hallucinatory dreamworld in some distant fantasy planet, is a perfect representation of the music that follows suit; although the majority of these tracks would normally be categorised as straight-up ambient, we prefer to think of them as dreamy electronica, a gentle wave of euphoria that never truly washes off after listening. If you ever wonder what electronic album you could stick on during a meditation session, then you've hit the jackpot.
…

Read more
Cat: ERSS 006. Rel: 16 Apr 18
Balearic/Downtempo
Matthewdavid's Mindflight - "Sonos"

HOLOVR - "Horizon Dub"

HOLOVR - "Mind Movement"

HOLOVR - "Mycomorph"
Review: "Emotional Response continues the second SchleiBen series with a pan-ocean exploration of meditative spiritualism meets psychedelic ambience.

The 2nd of the 4 part series expands with the inclusive offerings from LA's Matthewdavid and London's HOLOVR for a cyclical journey of altered consciousness against lush 303-tinged harmonics.

First, Matthewdavid provides a 20-minute live recording to showcase his "meditation with music". Beat maker, producer, label owner, radio host and now new age explorer, Matthew David McQueen has been a fixture of the City Of Angles music scene for over a decade. However, it was his association with Tropical Hi-Fi (SchleiBen 3) that first attracted the label's attention to dig deeper in to his developing sound.

As Leaving Records founder he has a prominent role is shaping the cities sound that has seen him work with Sun Araw, Laraaji and a myriad of the label's roster. Here performing in most his recent incarnation, Matthewdavid's Mindflight - having just released the wonderful Trust The Guide And Glide double album opus - is Sonos.

Recorded live at Dublab Radio's "Tonalism" event at Sonos Studios, the piece utilises Critter & Guitari Pocket Piano, Hulusi Flute and Ableton Live to create movement, fade and sequence. A looping realisation, music inside music, thresholds expanded, connecting the centre, a place, origin, a soul that allows a devout expression to exude and find mediation in sound. This is music to get lost and at the same, get found in.

Set against these endless arp-loops, is HOLOVR, raising a more focused consciousness that is a perfect counterpoint. Having already appeared on the label via his recent, deep, eloquent remix of Sad City, as well as releasing with label favourites Opal Tapes, Further Records and Firecracker, the desire to work with another uniquely individual producer has been in place for several years.

Recorded using only hardware; 303 lines, soft pads, arpeggio synths and Roland percussion capture a snapshot of time in a natural, in-the-moment negotiation of these different elements, giving trademark, open, drifting loops that let the listener within, while texture and tone engage, activating harmonic resonances almost as a drone. This progressive disintegration, tuning in and dropping out of musical spheres envelops while hinting at aphex influences and (artificial) intelligence.

SchleiBen shifts, expanding, growing, pulsating. Keep the faith and (un)listen.
"





…

Read more
Items 1 to 2 of 2 on page 1 of 1