Items 1 to 2 of 2 on page 1 of 1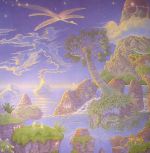 Cat: LR 074. Rel: 24 Mar 16
Ambient/Drone
O'Cean Dream (8:11)

Unfolding Atlantis (13:12)

Venusian Sunset (11:27)

Love's Harp (10:40)

Elven Invitation (10:39)

Dune Enigma (9:27)

The Vessel & The Voyage (22:22)
Review: Matthew David McQueen's Leaving Records is right up our figurative alley, and absolutely on point with everything that we love about quirky, cutting-edge electronic music. Being from LA, both the artist - McQueen appears here as MatthewDavid's Mindflight - and the label have their roots dug into the Stones Throw end of the hip-hop spectrum, but the music on Trust The Guide & Glide goes way beyond any simple sampling, and enters the realm of the quintessentially weird. The cover, a sort of hallucinatory dreamworld in some distant fantasy planet, is a perfect representation of the music that follows suit; although the majority of these tracks would normally be categorised as straight-up ambient, we prefer to think of them as dreamy electronica, a gentle wave of euphoria that never truly washes off after listening. If you ever wonder what electronic album you could stick on during a meditation session, then you've hit the jackpot.
…

Read more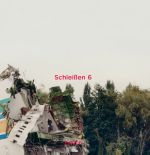 Cat: ERSS 006. Rel: 21 May 18
Ambient/Drone
Matthewdavid's Mindflight - "Sonos"

HOLOVR - "Horizon Dub"

HOLOVR - "Mind Movement"

HOLOVR - "Mycomorph"
Review: The Schleissen series goes from strength to strength on Emotional Response, inviting another two esteemed luminaries in the field of ambience to indulge themselves on a long side of wax. Matthewdavid is a welcome addition to the series - the West Coast champion has been operating in all kinds of unusual realms for a long time - and he comes to this release with a new project entitled Mindflight. The resulting track "Sonos' loops and folds heavy washes of drone and feedback in a thoroughly stimulating bath of harmony. Firecracker affiliate HOLOVR meanwhile presents three different musings on the dynamics of vintage UK techno, all crooked beat formations and luscious synth strokes gazing into the future.





…

Read more
Items 1 to 2 of 2 on page 1 of 1
Filter
Matthewdavid's Mindflight