Items 1 to 1 of 1 on page 1 of 1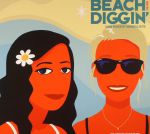 Cat: HS 168CD. Rel: 16 Aug 17
Balearic/Downtempo
Yasuko Agawa - "LA Nights"

Andre Marie Tala - "Sweet Dole"

Andre Marie Tala - "Lite Low"

Rebles - "Sweetest Taboo" (Soca version)

Ricardo Marrero & The Group - "And We'll Make Love"

Koko Ateba - "Si T'es Mal Dans Ta Peau"

Sookie - "Tonight" (feat Jeannine Otis)

Raphael Toine - "Femmes Pays Douces"

Eboni Band - "Desire"

Robert J Riggins - "I Need You Now"

Salero - "Teardrops & Wine"

Momo Joseph - "Teardrops & Wine"

Claude Genteuil - "Dreams Of Love"

Gatot Soedarto - "Sayangilah Daku Kasih"

Synchro Rhythmic Eclectic Language - "Pasto"
Review: Since the Beach Diggin' compilation series launched a few years back, a number of its obscure, Balearic-minded selections have been given full length reissues of their own. We can probably expect a number of the tracks from this brilliant fifth volume to get the same treatment. As usual, the wide-ranging track list is thick with highlights, from the synth-heavy, French language reggae of Raphael Toine's 1986 bubbler "Femmes Pays Douces" (taken from the artist's frustratingly hard to find Ce Ta Ou album) and vibraphone-laden jazz-funk smoothness of Yasuko Agwa's sought-after "L.A Night", to the barely-known brilliance of Andre Maria Tole's Cameroonian gem "Sweet Dole". In other words, it's another essential selection.
…

Read more
$12.98
SAVE 20%
in stock
$10.38
Items 1 to 1 of 1 on page 1 of 1