Items 1 to 2 of 2 on page 1 of 1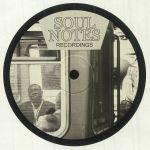 Cat: SN 12061. Rel: 05 Mar 13
Deep House
Fulbert - "Untitled"

Kastil - "Red Clown" (raw mix)

Malin Genie - "Leavin"

Jefferson Belmondo - "Booty Groove"
Review: Seeking to sum up the sound of his burgeoning label, Mario Castillo pulls in a selection of artists to assist him in his Kastil guise. Soul Notes is a label clearly in love with a more vibe-laden kind of deep house, whether it comes in the form of a bumping garage shuffle as in Fulbert's "Untitled", or Kastil's own more aquatic excursion. The unifying atmosphere is a blue note one, coming out of dreamy chords steeped in the legacy of black music that permeate each of the tracks on offer. Look no further than the feel-good roll of Jefferson Belmondo's "Booty Groove" for an exercise in understated funk that knows how to pay its dues.
…

Read more
Played by:
Rob Gribbin
,
Ernie (Minuendo Recordings)
,
Raw Printz
,
TiTo (Troubled Kids Records)
,
Replika (Quintessentials)
,
Nathaniel Jay (Love Notes)
,
Dj Aakmael (Unxpozd)
,
Jacques Renault
,
DJ Doug Gomez
,
DJ Nav
,
Superbreak
,
Brothers' Vibe
,
PRECIOUS K
,
Washerman
,
Femanyst aka Lady Blacktronika
,
Roberto Rodriguez
,
ART OF TONES
,
Juno Recommends Deep House
,
Jorge Caiado (Balance / Groovement)
,
Big Bang (Arision)
,
NICOLA CONTE
,
Fabio Monesi (Wilson Records)
,
Adryiano
,
Joe Montana
,
Kastil (Soul Notes/Stale)
,
Leigh D Oliver
,
Tommy Finger Jr.
,
Djs: Most Charted - Deep House
,
Fulbert
,
Janeret
,
Desos
,
Cecil (artfuldivision)
,
Swink Music Records
,
Colman Buckley
,
MIL (Music is Love Records)
,
Klansee
,
John Devecchis
…

Read more
Hypothetical Island Of Stability

Fudeoroshi

Bulbocavernosa

Mer Neith It Es
Review: Not content with already steering the Vigenere and Oscillat labels and appearing regularly on Will & Ink and Lazare Hoche, Malin Genie has launched his own self-titled label as a vessel for his most intriguing twists on the house and techno template. The record strides in with the tracky tones of "Hypothetical Island Of Stability," a feast of micro pops and squiggles strapped to a rock solid beat. "Fudeoroshi" is more overtly minimalist in nature, using the barest of ingredients to make a potent dancefloor cut. "Bulbocavernosa" opens up the filters and lets a little nasty acid fun and games into the mix, and then "Mer Neith It Es" rounds the record off with a soaring slice of melodic, deep techno that stands confidently apart from the rest of the tracks.
…

Read more
Items 1 to 2 of 2 on page 1 of 1