Artists
Items 1 to 2 of 2 on page 1 of 1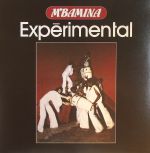 Cat: ASVN 013. Rel: 23 May 16
International
Djambo (3:10)

Tchiula (4:54)

Mamy (4:30)

Tchiayala (4:30)

Mosi Zole (3:52)

Mambu (3:47)

Atide O Sika (3:46)

Zizi Ku Mbele (2:11)

Mbongui (2:40)
Review: Disco-edged Afro funk by way of Milan, M'Bamina - comprising members from Congo, Benin and Cameroon - enjoyed a 12 year run from the early '70s to the mid-'80s, working with and supporting some of the biggest names possible from James Brown to Manu Dibango. Experimental is their second album (1978) and shows them really finding their groove and some incredibly tight musicianship. Prime examples of their unique funk melting pot include the sudden switches between epic Afro horn blasts and lolloping disco bassline of "Mosi Zole", the glistening universal folk-soul of "Mambu" and the frenetic guitars on the sweaty party blazer "Mamy". All of which still hits hard almost 40 years since it was first recorded.
…

Read more
Cat: VW 001. Rel: 23 Oct 17
Disco/Nu-Disco
M'Bamina - "Kilowi-Kilowi"

Supa Frika - "Love Satisfaction"

Trevor Bastow - "Integration" (extended)

The Winners - "We Are Number 1"
Review: There's little information to be found about the origin of the Voice Whispers series, though the four cuts showcased on this first 12" are all superb, hard-to-find gems from the boogie era. On the whole, that means bold, thickset synth basslines, modulated lead lines and slick early '80s production. The EP opens with France-based combo M'Bamina's "Kilowi-Kilowi", a killer chunk of synth-heavy Afro-boogie, before we're treated to "Love Satisfaction", a life-affirming South African synth slow jam blessed with both a fantastically emotional vocal and a righteous bassline. Side B boasts a 1979 composition from British library music disco specialist Trevor Bastow ("Integration") and "We Are Number 1", which is quite possibly the best (maybe only) football-themed South African boogie record around. As the cliche goes: all killer, no filler.
…

Read more
Items 1 to 2 of 2 on page 1 of 1