Artists
Items 1 to 3 of 3 on page 1 of 1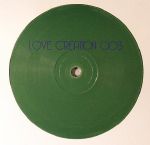 Cat: LOVECREATION 003. Rel: 03 Jul 17
Disco/Nu-Disco
Into The Sun (5:14)

School (Love Creation dub) (6:13)

Sons & Daughters (Love Creation long edit) (9:10)

Kalimba With Alice (2:28)
Review: Presenting you with the third edition of Lovecreation's Interstellar Creations From Planet Love. A fine selection of disco/balearic remixes and edits on offer here. Starting off on the A side with a wonderful re-interpretation of early noughties electroclash anthem "Fly With Me" by Coloursound which is given a brilliantly lo-slung makeover. There's then a mighty rendition of a certain classic by The Neville Brothers on the flip with "Sons & Daughters" (Love Creation long edit) and it is just perfect for drifting with its deep, trance inducing drums, cosmic synth textures and rubbery bass grooves all working in perfect harmony. Finishing up with the oddly beautiful and somewhat creepy fairy-tale like vibe of "Kalimba With Alice".
…

Read more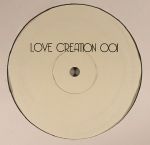 Cat: LOVECREATION 001. Rel: 30 Jan 17
Disco/Nu-Disco
Hypnodance (Love Creation long edit) (9:51)

Beached Intro (2:23)

I Wanted To Tell Her (Love Creation edit) (6:01)
Cat: LOVECREATION 002. Rel: 20 Mar 17
Disco/Nu-Disco
Turn My Back On You (Love Creation Conga edit) (6:57)

Mr Bates (Love Creation edit) (6:06)

Take Me With You (Love Creation edit) (6:14)
Review: There's more dewy-eyed, loved-up re-edit action to be found on this second salve from the mysterious Love Creation crew. Opener "Turn My Back On You" is a sultry, late night delight; an impressively seductive rearrangement of a slow burning, Sade style shuffler full of lazy guitar lines, rising and falling bass, and crotch-stirring vocals. Stay tuned to side A for the psychedelic disco-rock trip that is "Mr Bates" - and, yes, it's definitely Balearic - or flip to the B for the freshly baked soul shuffle of "Take Me With You". All three edits are undoubtedly winners, and should suit warm up sets, afternoon jams, and dancers that don't need a hectic tempo to get down.
…

Read more
Items 1 to 3 of 3 on page 1 of 1