Items 1 to 3 of 3 on page 1 of 1
Cat: ERSS 008.
Ambient/Drone
Jon Keleihor - "Serpent In The Sky"

Jon Keleihor - "Emergence Of Light"

Jon Keleihor - "Las Mujeres Passione"

Lord Of The Isles - "T Minus"

Lord Of The Isles - "Right For Us"

Lord Of The Isles - "Zub-2"

Lord Of The Isles - "Gone"

Lord Of The Isles - "PSOX1"

Lord Of The Isles - "Luv7"

Lord Of The Isles - "Welcome Return"
Review: "For the final part of SchleiBen 5 - 8, Emotional Response welcomes two Scottish based artists to close out the series. In Jon Keliehor you have a world and music traveler with history from psychedelic rock to fourth world exposure, alongside one of the best electronic producers of the last decade, Lord Of The Isles.

As the drummer of West Coast folk rock / psychedelic band The Daily Flash, Keleihor spent much of the mid-60 based in and out of Seattle and Los Angles, playing alongside the likes of Jefferson Airplane, Cream and The Doors, before an increasing interest in meditation and philosophies outside of the 'rock' realm led him to England in the early 70s where he become involved in dance theatre. Teaching Advanced Rhythmic Music Studies at the London Contemporary Dance School, his music composition style became influenced by his studies of world music.

Finally settling in Glasgow for over 20 years, while running the Luminous Music label and Gamelan Naga Mas, his earlier recordings for labels like Indipop, Touch and Bruton have seen a recent revival, with music appearing recently on contemporaries Optimo Music and Invisible Inc.

The wonderful recordings included here span over 3 decades, from sessions at the Luminous Studio at The Diorama Theatre, London in the early 80s, through to recent field-work based recordings in the Cairngorms. Reconfigured and updated, a common thread appears through the pieces - a sense of longing and appreciation - as Jon's knowledge of outer-national instrumentation alongside equally extensive travels around the globe gives the recordings a seamless blend of organic craft.

The tonal consonances within unlikely combinations of instruments, with tuned glasses (tarang), tabla, jaw harps, clay flutes and ocarinas, Chinese instruments that include Xiao-Bo and Xiao-Ping, large Noah bells, small and larges gongs all employed, the recordings have been reconstructed, edited and updated via sampling and digital processing. Featuring the playing of John "Jhalib" Millar - the extraordinarily gifted musician and tabla player - who has appeared with an EP on sister label, Emotional Rescue (ERC029), sadly recently deceased, the contribution acts as a tribute and more.

To close, the music of Lord Of The Isles is an excellent companion to Jon's work. Neil McDonald's list of club-based releases on labels CockTail D'Amor, Ene, Firecracker, Permanent Vacation, ESP Institute and Phonica is comprehensive and exemplary, however within his productions has often been an other-worldly element, a space between the beats and occasional fully ambient pieces.

Approached originally for series one of SchleiBen, the 7 pieces included were worth the wait, a journey in themselves and the perfect completion. Spanning almost 5 years, the majority were written during an extended exile in the Cairngorms. The lifting, ethereal, but melodic nature of the music fits that aesthetic. Blue skies, snow, long walks, space to think, but with a longing and appreciation of family and friends.

The solitary nature found in SchleiBen 8 and the geographical incidence of both artist's recordings including sessions in the Scottish Highlands fits the series ideals and is a nice closure. Enjoy and listen.
"





…

Read more
Irafas

W5 Alpha

Q-Bit

Three Times Eleven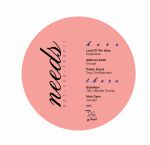 Cat: NNFP 003. Rel: 16 Apr 18
Deep House
Lord Of The Isles - "Cryptolove" (3:20)

Mehmet Aslan - "Escape" (5:00)

Petwo Evans - "Trust The Mountain" (4:39)

Bartellow - "1001" (Skrillex Theme) (8:13)

Nick Gynn - "Jumanji" (5:59)
Review: Bobby Pleasure's Needs label continues to gather steam behind a message of togetherness, raising money for worth causes and trying to help those less fortunate in society. On this third instalment Lord Of The Isles leads the way with a typically romantic swoon of analogue bass and gorgeous 80s synth strings, while Mehmet Aslan lays down an earthly prowler powered by organic instrumentation. "Trust The Mountain" introduces Petwo Evans with a daring strain of broken electronica heavy on the crackling signal processing. Bartellow's "1001 (Skrillex Theme)" is a craft machine disco workout, and then Nick Gynn takes things tropical with the exotic tones and bold drum machine hits of "Jumanji".




…

Read more
$9.39
SAVE 25%
in stock
$7.04
Items 1 to 3 of 3 on page 1 of 1