Items 1 to 1 of 1 on page 1 of 1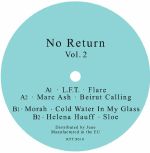 Cat: RTTD 010. Rel: 19 Mar 18
Electro
LFT - "Flare"

Marc Ash - "Beirut Calling"

Morah - "Cold Water In My Glass"

Helena Hauff - "Sloe"
Review: Helena Hauff's mighty Return To Disorder is back with a various artists 12" packing phasers set to slay. LFT is as evil as it gets on "Flare," dropping the kind of sleazy, Bunker-ready, acid inflected electro that darkroom dreams are made of. Marc Ash has an edgier tone, maximising the distortion but also capitalising on uneasy space in the mix on grimy workout "Beirut Calling." Morah sends things in an airy direction on "Cold Water," building up layers of noise but maintaing a strange air of optimism. Hauff herself lands the B2 slot with a curious belter that channels the spirit of 90s MIDI game soundtracks amidst searing arepggios and a bloated kick.
…

Read more
Items 1 to 1 of 1 on page 1 of 1