Items 1 to 2 of 2 on page 1 of 1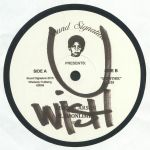 Cat: SS 059. Rel: 21 Mar 16
Deep House
Lemonlime (10:25)

Sof N Thik (5:55)
Review: Leron Carson may not be the best-known Midwest producer, but he has history. Carson's first release came way back in 2001, with Theo Parrish putting out a track he'd recorded way back in 1987 and has appeared on Sound Signature intermittently over the years. This new 12" from Carson for Theo's label is HEAVY! "Lemonline" is a deliciously breezy concoction, with Carson's jazzy piano riffs working in perfect unison with bouncy, Latin-influenced drum rhythms. Flipside "Sofnthik", on the other hand, sounds like a previously unheard 1980s Chicago deep house concoction, with warm, loved-up chords swirling around a clattering drum machine groove. Whether it was recorded 30 years ago is unknown, but it certainly boasts a similar lo-fi, analogue feel.
…

Read more
Played by:
Leif
,
Flori
,
OdDio
,
Ernie (Minuendo Recordings)
,
The Last Trip to Gandahar
,
TiTo (Troubled Kids Records)
,
RUSTAM OSPANOFF.
,
STEREO 12"
,
Thatmanmonkz (Shadeleaf Music)
,
Adesse Versions
,
Patrice Scott
,
OK Jones / Love Glove
,
Dj Prophet
,
Monsieur Cedric (Serie Limitee)
,
Per Bojsen-Moller
,
ISOUL8 (Volcov)
,
Daniel Andreasson
,
Kez YM
,
Nick Anthony Simoncino
,
Juno Recommends Deep House
,
Martyn
,
Nicola conte
,
Giorgio Luceri
,
Ney Faustini
,
Joe Montana
,
Djs: Most Charted - Deep House
,
RNR
,
Rikki Humphrey
,
Juno Best Sellers 2016
,
25 Places
,
Shall Not Fade
,
TAPE_HISS
,
Pontchartrain
,
JELLY ROLL SOUL
,
Bradford James (DS Records)
,
Philou Louzolo
,
DJ SCM (Warm Tapes Adjustment)
,
Blue Mondays
…

Read more
Cat: SS 012. Rel: 21 Aug 01
Techno
Leon Carson - "China Trax" (8:32)

Theo Parrish - "Insane Asylum" (9:57)
Review: Oh yes, we love it when Theo represses some of his most sought after tracks and this one is particularly well-timed. Leron Carson is still an unknown figure, a kid who used to make viciously raw and futuristic techno tracks in the late 1980's! "China Trax", alongside the rest of his tracks on a different Sound Signature double 12", is totally ahead of its time and if it was truly made in 1987 then it is nothing short of amazing. Of course, it's not just the year it was made in that's interesting but also the fact that it's music without an age, able to be appreciated by any generation of techno freaks. Theo's own "Insane Asylum" on the flipside is also pretty monumental; rigged beats, off-kilter grooves and that familiar spontaneity so heavily associated to the label. RECOMMENDED.
…

Read more
Items 1 to 2 of 2 on page 1 of 1