Items 1 to 1 of 1 on page 1 of 1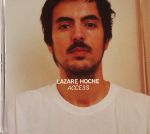 Cat: LHR 14CD. Rel: 01 Feb 16
Deep House
NWS - "Time's Irrelevant"

Lazare Hoche - "Access"

Luke Solomon presents Jean Caffeine - "Jean Aftertought"

Point G - "La Lampe du Vizir Adjané"

Modal - "Lovers" (Roy Davis & Dj Skull remix)

Skymaster - "Final Link"

Lazare Hoche & Malin Génie - "Formes"

Nimbus Quartet - "Your House Is Yours"

Lazare Hoche & Malin Génie - "Session 2"

Unit T - "Mystery Tones"

Mandar - "Fouad"
Review: Lazare Hoche doesn't release that much music, but what he does put out is invariably excellent. Following a smattering of singles and an acclaimed collaborative album alongside Malin Genie - 2013's I Don't Sync So Volume II - he's decided to put together a compilation featuring his own productions and those by music industry mates. Access, then, is a lesson in warm and luscious deep house, with significant contributions coming from Luke Solomon (donning the Jean Caffeine guise on the dreamy and rolling "Jean Afterthought"), DJ Gregory's Point G project (the ultra-deep pulse of "La Lampe Du Vizir Adjane"), and pals Skymaster and Mandal. Hoche's own contributions rank amongst the compilation's highlights, with the title track delivering a pitch-perfect lesson in the seductive powers of dreamy, dust-encrusted deep house.
…

Read more
Items 1 to 1 of 1 on page 1 of 1