Artists
Items 1 to 2 of 2 on page 1 of 1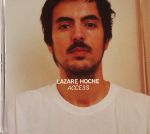 Cat: LHR 14CD. Rel: 08 Feb 16
Deep House
NWS - "Time's Irrelevant"

Lazare Hoche - "Access"

Luke Solomon presents Jean Caffeine - "Jean Aftertought"

Point G - "La Lampe du Vizir Adjané"

Modal - "Lovers" (Roy Davis & Dj Skull remix)

Skymaster - "Final Link"

Lazare Hoche & Malin Génie - "Formes"

Nimbus Quartet - "Your House Is Yours"

Lazare Hoche & Malin Génie - "Session 2"

Unit T - "Mystery Tones"

Mandar - "Fouad"
Review: Lazare Hoche doesn't release that much music, but what he does put out is invariably excellent. Following a smattering of singles and an acclaimed collaborative album alongside Malin Genie - 2013's I Don't Sync So Volume II - he's decided to put together a compilation featuring his own productions and those by music industry mates. Access, then, is a lesson in warm and luscious deep house, with significant contributions coming from Luke Solomon (donning the Jean Caffeine guise on the dreamy and rolling "Jean Afterthought"), DJ Gregory's Point G project (the ultra-deep pulse of "La Lampe Du Vizir Adjane"), and pals Skymaster and Mandal. Hoche's own contributions rank amongst the compilation's highlights, with the title track delivering a pitch-perfect lesson in the seductive powers of dreamy, dust-encrusted deep house.
…

Read more
Cat: LHR 17. Rel: 05 Feb 18
Minimal/Tech House
Seascape (13:02)

Compas (5:39)

Belhara (7:10)
Review: Parisian smooth groovers Lazare Hoche team up with Traumer to deliver this fresh transmission of subliminal minimal house from the heart of the French underground. "Seascape" is a perfectly measured trip through shimmering synth pulses and a hypnotic rhythmic tick, contrasting neatly with the weighty thump of "Compas" which opens up the B-side. "Belhara" closes the record out with some gorgeous ambient melodic threads that flirt around a pumped up beat that counts among the most uptempo work that has been put out on Lazare Hoche. It's another classy addition to the label's catalogue, sure to find favour with scores of the minimal house fraternity.
…

Read more
Items 1 to 2 of 2 on page 1 of 1