Artists
Items 1 to 3 of 3 on page 1 of 1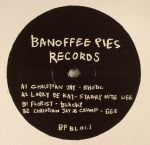 Cat: BPBL 01 1. Rel: 20 Jun 16
Minimal/Tech House
Christian Jay - "Rhotic" (7:12)

Larry De Kat - "Starry Nite Life" (6:06)

Florist - "Blacky" (5:59)

Christian Jay & Crump - "GG3" (7:14)
Review: Bristol's Banoffee Pies are back with their 11th edition. But as far it goes musically: this certainty ain't Bristol! Starting out with the smoothly reduced tendencies of local lad Christian Jay's "Rhotic" which sounds inspired by the sounds of Trelik, there's more of the same (albeit much dubbier and smoked out) on "Starry Nite Life" courtesy of Utrecht's Larry de Kat; very paranoid afterhour vibes on this one! On the flip we've got some more dubbed out fare courtesy of Christian Jay, again, who enlists a bit of help from Crump on the rusty and dust coated "GG3". All Caps artist Florist adds a touch of Vancouver to proceedings with the squelchy DJ tool "Blacky."
…

Read more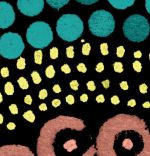 Cat: NIP 02 . Rel: 13 Mar 17
Deep House
Solitary Maybe (Frits Wentink mix) (6:48)

Solitary Maybe (DJ Nature NYC mix) (5:13)

Solitary Maybe (dub Treatment) (6:07)
Review: Dutch producer Larry De Kat has been spotted on Lazare Hoche, SlapFunk and Banoffee Pies amongst many others in recent times. Having launched his Katnip label last year he returns with a second release and this time he's brought in some big guns to help him out. "Solitary Maybe" appeared on that last 12", and here it gets high grade reworkings from Frits Wentink and DJ Nature. The former creates a delightful off-kilter groove with wobbly melodic samples aplenty, and then DJ Nature lays down some of his trademark ruffness in a style that couldn't be more authentically funky if it tried. That leaves it to Larry himself to twist out a trippy dub of his original jam to round off the record.
…

Read more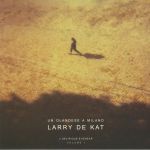 Cat: DNIP 01. Rel: 04 Dec 17
Broken Beat/Nu Jazz
Do For Love (feat Juno) (5:05)

Sprookjesbos (4:32)

So Damn Fine (3:35)

Se Io (feat Juno) (6:10)

Enjoy Losin' (4:19)

Lanero Voleva Una Hit (5:17)
Review: Dutch producer Larry De Kat has been spotted delivering an album to Lazare Hoche and sliding his wares onto SlapFunk and Dungeon Meat alike, but his Katnip label it the one to watch for some of his most personal wares. This new release finds him purring his way through downtempo, soul-inflected selections that open out a whole new dimension to this talented, versatile producer. Juno's vocals are the icing on a particularly funky cake on "Do For Love", while "So Damn Fine" is an instrumental beat worthy of D'Angelo (sadly not included). The jazzy licks pour out of this release like honey - Larry De Kat just upped his game yet again and we strongly advise you to take heed.
…

Read more
Items 1 to 3 of 3 on page 1 of 1