Items 1 to 3 of 3 on page 1 of 1
Cat: KLOCKWORKS 001/52721. Rel: 25 Dec 06
Techno
Glandula Piti

Glimmerman (Part One)
Review: Hard hitting, guaranteed floor burning techno.
…

Read more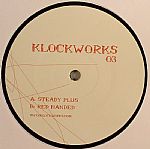 Cat: KLOCKWORKS 003. Rel: 07 Apr 08
Techno
Steady Plus

Red Handed
Cat: KLOCKWORKS 006/61808. Rel: 11 Oct 10
Techno
Under Pressure

Voyage One

You
Review: Ben Klock revives his own Klockworks imprint with some pounding excursions into the genre we call techno. The fleeting organ melody of "Under Pressure" rests above a taught, tense drum loop, while "Voyage One" begins with the kind of thumping beat that characterises a Ben Klock DJ set, with a frenzied key structure giving the track a sense of unease and nervous anticipation, almost like Jeff Mills' Something In The Sky series with a Berghain beat. ""You" rounds off the 12" in a minimal, atmospheric undertone. Limited supply, get in quick.


…

Read more
Items 1 to 3 of 3 on page 1 of 1