Items 1 to 1 of 1 on page 1 of 1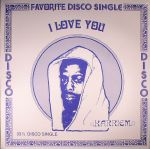 Cat: FVR 123. Rel: 21 Nov 16
Disco/Nu-Disco
I Love You (long version) (6:55)

I Love You (short version) (4:01)
Review: Many hardened disco diggers have long dreamed of finding a copy of Karriem's super-sweet 1979 single, "I Love You". It has a reputation for being one of the harder disco records to find, with copies of the original Pashlo Records release changing hands for serious sums online. Happily, Favorite Recordings has gone to the trouble of licensing it, offering this re-issue in replica artwork (complete with lyrics on the back sleeve). "I Love You" itself is near perfect, with Karriem's fine vocals and killer electric piano solos riding a loose disco groove full of clipped guitars and rich percussion. Like the original 12", this version boasts the superior extended mix, and a tighter edited version.
…

Read more
Played by:
DJ Red D (We Play House Recs)
,
Charles Maurice
,
Phillie P
,
Manu•Archeo
,
RUSTAM OSPANOFF
,
Javi Frias
,
Paul Thornton (Dig Deep / Reboot)
,
Lexis (Music Is My Sanctuary)
,
Disco Tech (DiscoDat)
,
Patchworks
,
Juno Recommends Disco
,
I Love Disco!
,
Nicola conte
,
Cyclist
,
Señorlobo (Lovemonk)
,
Tim Zawada
,
Jean Claude Gavri
,
KS French
,
Coeo
,
Born To Shine Records
,
Hhatri
,
Francesco Rossini
…

Read more
Items 1 to 1 of 1 on page 1 of 1