Artists
Items 1 to 2 of 2 on page 1 of 1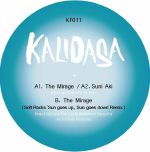 Cat: KF 011. Rel: 09 Apr 18
Disco/Nu-Disco
The Mirage

Suni Aki

The Mirage (Soft Rocks remix)
Review: From World Unknown, Magic Feet and Tusk Wax and now on to Kinfolk, Tim Rivers is marking out a place in that world of mystical grooves where acid, kosmische, new age, Balearic and wyrd pagan dance can all jam to the same beat. The title track on The Mirage is a gorgeous slice of motorik smoothness, letting sustained guitar nights ring out over a tender throb of bass. "Suni Aki" is a more dramatic piece with a healthy dose of 80s bombast poured over its loins, and then Soft Rocks grapples the B side for a remix of "The Mirage" that cuts the tow line and drifts off in the direction of the sunset.




…

Read more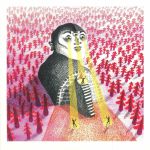 Cat: SR 002. Rel: 09 Apr 18
Disco/Nu-Disco
Kalidasa - "KR1" (5:17)

Zmatsutsi - "Wet Grout" (Joe dub) (7:48)

Tony Pineman - "Kaneda" (5:00)

Tross - "Colonization" (6:02)
Review: The Space Ritual label launched last autumn with an intriguing mini-album from Oddnip, AKA experienced producers Luv Jam and In Fields. Here the imprint changes tack, serving up a quartet of tasty tracks from new and little-known artists. Kalisdassa steps up first with the psychedelic, shoegaze-goes-Balearic chug of "KR1", before Joe delivers a deep space dub of Zmatusi's "Wet Grout", where gnarly guitar solos trade blows with kalimba style melodies, sparse electronic beats and fuzzy, analogue bass. There's more heat to be found on the flip, first from Tony Pineman (the tropical dub disco hum of "Kaneda"), and lastly Tross, whose "Colonization" somehow joins the dots between heavy Afro-dub, deep electronica and post-punk experimentation.
…

Read more
Items 1 to 2 of 2 on page 1 of 1