Items 1 to 2 of 2 on page 1 of 1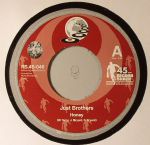 Cat: RS 45 046. Rel: 10 Jul 17
Soul
Just Brothers - "Honey" (2:49)

Apollo Studio Band - "Honkey Tonk Woman" (instrumental) (2:39)
Review: For their latest deep dive into the world of obscure funk, Vienna's Record Shack has decided to reissue two hard-to-find gems from the Just Brothers and Apollo Studio Band. The former's "Honey" was recorded in the 1970s but first released in 2001. Full of their trademark surf style guitars, stomping Northern Soul style beats and dreamy, psychedelic era vocals, it remains one of the outfit's greatest tracks. On the reverse you'll find the thrillingly fuzzy "Honky Tonk Woman (Instrumental)" by the Apollo Studio Band. We found next to no information about the outfit online, suggesting the track was taken from a lauded, private press release. Either way, it's a prime chunk of Northern Soul style instrumental fuzziness that's worth the admission price alone.
…

Read more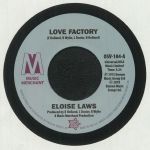 Cat: OSV 104. Rel: 19 Nov 13
Soul
Just Brothers - "Sliced Tomatoes"

Eloise Laws - "Love Factory"
Items 1 to 2 of 2 on page 1 of 1