Items 1 to 3 of 3 on page 1 of 1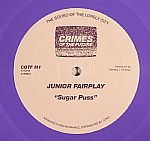 Cat: COTF M1. Rel: 22 Sep 14
Deep House
Sugar Puss
Review: Junior Fairplay steps up with a special one-sided Crimes Of The Future release. While we can't confirm if Junior Fairplay is an alias for Timothy Fairplay, we do know that this upbeat piece of Korg M1-featuring breakbeat house is the kind of 90s throwback music we want to be hearing right now - absolutely essential stuff.
…

Read more
$6.57
SAVE 50%
in stock
$3.29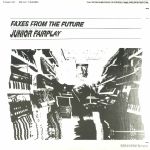 Cat: EES 029. Rel: 04 Jun 18
Techno
End Of Love (5:25)

End Of Love (Roy Of The Ravers remix 1) (6:43)

The Shazsquatch Goes Back Into The Woods (4:49)

Faxes From The Future (6:48)
Review: It's been a hot minute since Timothy J. Fairplay slipped on his Junior Fairplay guise, but he's done just that for this bleep-tastic new 12" on (Emotional) Especial. "End Of Love" is unabashed in its embrace of early Yorkshire techno tones, making a fine job of resurrecting the bleep spectre and letting it shake up the dance once more. Roy Of The Ravers is a smart choice of remixer, and he brings an off-kilter acid rub to the table in his idiosyncratic, braindance-inflected style. The B-side is equal laden with purposefully dusty dance grooves transplanted from the late 80s / early 90s, with "Faxes From The Future" hitting a particularly sharp point in its lazy breakbeat roll and the clanging harmonies of the stabs.
…

Read more
Cat: EES 030.
Electro House
Junior Fairplay - "End Of Love" (Roy Of The Ravers remix 2)

Freeform Five - "Throwing Stones" (Jamie Paton remix)

Red Axes - "Waiting For A Surprise" (Kris Baha remix)

Bal5000 - "Kids"
Review: And so Especial comes to its 30th release. As with the EES010 and EES020 the 12" is given over as a "Sampler EP" of alternate versions, dubs and unreleased cuts that deserve their time in the spotlight. Again featuring a label's who's who, with Fairplay, Paton and Baha appearing, but also new crews in vogue with Roy Of The Ravers back, joined by the esteemed Freeform Five plus a debut from Bal5000.

First up, sees the return of Junior Fairplay in the mixing desk hands of the ever kenetic Roy Of The Ravers. After turning in a twisted bleeptastic remix on Junior's recent "Faxes From The Future" EP (EES029), here in the aptly titled Remix 2, Roy strips everything back for a succinct and short stormer. Deeper, dubbier, dirtier, Roy does the acid-tinged bass and kick better than any, snapping those hats to ride.

Next comes another of those Jamie Paton reversions that slowly seep in your brain for days. He's all there and more, taking Freeform Five's digi-only Throwing Stones and with drudge beats, soft keys, drunk-funk pads, snap-claps and 909 kick all underpinning (Ali Love's) dubbed vocals to the haunting refrain only he can find. Another Paton love dub for the more open-minded DJ to melt hearts and minds.

On the flip, we are delighted to release on vinyl Kris Baha's now cult retake of those brightest stars, Red Axes. Only previously released by brethren Multi Culti as an digi-only for the Waiting For A Surprise Remixes EP, after many years of cat calls and reminders, here at last for the vinyl heads is this monster drug-thug. Recorded some 3 years back when Baha was a relatively unknown, now a debut LP imminent for dem CockTail's boyz, this is right time for such a club killer to be spun loud and proud.

To close, a new "Kids" on the block. Picked up on and then sat on for too long, Bal5000 has since had an acclaimed EP for our Invisible Inc. friends in the north and so it's right to let this pure electro flyer...fly. Coming on like a 6am party lifter, the electro beats nod to Geist and Jesrani, but with it's own funk and vibe that just keeps going higher and higher until the nods are smiles and smiles are skips and shuffles to the beat (the street).

After 26 releases in 3 crazy years, last years solo (Paton) release was a nice stop and breath, so where Especial goes next is unknown. With some discoveries now flown the coup and new headz bringing their own new sound, plans are afoot to keep on keeping on and to bring something old and new to the floor...or the door. You choose.





…

Read more
Items 1 to 3 of 3 on page 1 of 1