Items 1 to 3 of 3 on page 1 of 1
Cat: SECRETDANCE 20172. Rel: 22 Jun 17
Deep House
DJ Slyngshot - "Hygh Tech" (10:58)

Bastien Carrara - "That Time Again" (6:56)

Jayson Wynters - "Chi Kung" (7:33)
Review: As you'd expect, there's far more hits than misses on this second sampler 12" for Secretsundaze acclaimed Dance 2017 compilation. We're particularly enjoying the deep and spacey shuffle of Jayson Wynters's "Chi Kung", where eyes-closed electronics and intergalactic synthesizer flourishes cluster around a bongo-laden, acid-fired groove. Bastien Carrera's gently bobbing "That Time Again" is also quietly impressive, but it's the A-side salvo from DJ Slyngshot that really impresses. Entitled "Hygh Tech", the track doffs a cap to both tactile, loved-up old deep house and chunkier early UK tech-house, while carving its own breakbeat-driven, rave-for-days old school niche.
…

Read more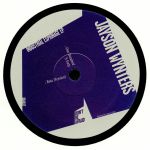 Cat: DBA 037. Rel: 08 Mar 18
Techno
Beta (version) (6:18)

One Hundred N Forty (6:02)

Into The Void (6:16)

The Kansei Method (8:24)
Review: Brum's best techno export since Regis, Jayson Wynters returns to Don't Be Afraid with four more strident constructions. Rooted in classic machine funk and loop craft we take off with the gradually pummelling percussive hypnotiser "Beta" and crash land to the soothing synthesis and deep acid textures of "The Kansei Method". In between we're treated to the soft-but-stern swoons of the white knuckle "One Hundred N Forty" and bashed senseless by the warehouse crumbling jacker "Into The Void". On point.
…

Read more
Ancient Tones

Jet Lagged

Ancient Tones (Caldera remix)
Review: Following on from transmissions by Gauss, Sota and Faune, Ornate Music is proud to welcome hotly tipped Birmingham talent Jayson Wynters to the fold. Wynters has already made a strong impression via releases on Mr G's Phoenix G label and Don't Be Afraid, and now he serves up two original tracks that further shape out his deeply hypnotic approach to house music. Alongside the immersive allure of Wynters' originals, rising talent Caldera offers up a stripped back, meditative broken beat remix of "Ancient Tones" fresh from his appearance on WNCL Recordings late last year. The Latitude EP is a natural fit for Ornate, giving Wynters and Caldera free reign to show off their uniquely mesmerizing styles of contemporary house and techno.





…

Read more
Items 1 to 3 of 3 on page 1 of 1