Items 1 to 3 of 3 on page 1 of 1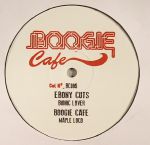 Cat: BC 009. Rel: 21 Nov 16
Disco/Nu-Disco
Ebony Cuts - "Bionic Lover" (7:08)

Boogie Cafe - "Maple Loco" (7:06)

Javi Frias - "Time & Space" (6:15)

Neil Diablo - "Got To Give In" (6:50)
Played by:
JimmyTheTwin
,
Replika (Deso, Swedish Brandy)
,
Javi Frias
,
Superbreak
,
I Love Disco!
,
Neil Diablo
,
Osmose
,
The Owl
,
Robert James
,
DISCO B (LATE NIGHT SESSIONS)
,
Señorlobo (Lovemonk)
,
Jean Claude Gavri
,
Admin
,
CHEZZ
,
Shaka (KolourLTD, Balance Alliance)
,
Born To Shine Records
,
Saucy Lady
,
Masterworks Music
,
Neon Finger
…

Read more
FORTHCOMING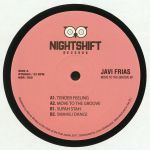 Cat: NSR 002. Rel: 02 Oct 17
Disco/Nu-Disco
Tender Feeling

Move To The Groove

Supah Stah

Swahili Dance
Review: A few months after the release of the first reference of his own imprint 'Night Shift Records' and after selling all the stock quickly, Madrid DJ and producer Javi Frias is back again with the second EP on his label. During this time he was number 1 sales at Juno with his first 7"" on Disco Pocho and got a big success with his edit of Susana Estrada classic 'Quitate El Sosten'.A
This time he's back to the razor blade to deliver a four track 12"" entitled 'Move To The Groove', keeping the spirit of classic editing art in good shape. The EP includes four songs that have never been edited before, wisely chosen from among those hidden gems that surely needs some light and love. On the A side we have 'Tender Feeling', an amazing groove based on a soulful sample over a disco house rhythm with perfect vocal harmonies, and 'Move To The Groove', the perfect example of a dancefloor tune, furious disco funk full of horns and percussion.AThe B side starts with 'Supah Stah', classic disco sound with a wonderful female vocals and strong rhythm section plenty of breakdowns and funky basslines. The EP ends with 'Swahili Dance', and obscure afro disco tune retouched and extended for the maximum dancefloor pleasure.A





…

Read more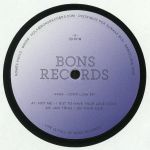 Cat: BR 009. Rel: 23 Oct 17
Deep House
Not Me - "I Got To Have Your Love" (edit) (8:39)

Javi Frias - "On Your Side" (5:09)

DJ Bruce Lee - "Disco Juice" (5:03)

Doc L Junior - "Love You So Much" (7:01)
Review: Bons Records are back with an EP packed full of soul. On their ninth release, the Catalan label is nourished by four first rate artists on an EP full of disco and funk samples. Side A features Not Me, a young Catalan producer who performs a club version of an all time essential soul record, while Madrid based Javi Frias has made another one of his sought after trips through disco music. On the flip, one of the best and most active selectors in town - DJ Bruce Lee, presents a house DJ tool with samples of a very well known disco track and finally Doc L Junior, of label rosters such as Sex Tags Mania or Music For Freaks presents a classic house track with an 80's feel to round off the EP.
…

Read more
Items 1 to 3 of 3 on page 1 of 1