Items 1 to 2 of 2 on page 1 of 1
Cat: MYST 002.
Deep House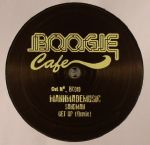 Cat: BC 010. Rel: 22 Mar 17
Disco/Nu-Disco
Mannmademusic - "Sandman" (5:16)

Mannmademusic - "Get Up" (remix) (6:38)

Jank - "Doin' It" (Mannmademusic remix) (6:06)

Jank - "Doin'It" (5:58)
Review: Under the now familiar Mannmademusic alias, Ian Mann has delivered fine material for Shadeleaf, Lumberjacks In Hell and Glenview. Here he makes his first appearance on fast-rising Bristol disco-house imprint Boogie Cafe. Opener "Sandman" is superb; a kind of colossally beefed up edit that underpins the soulful, party-starting source material with bustling new beats and bass. In contrast, "Get Up (Remix)" is a dustier and woozier, jazz-flecked deep house affair of the sort we'd expect to hear from Detroit producers such as Andres. Flip for the debut of previously unheard producer Jank. "Doin' It" is a chugging, LTJ style edit of a super-sweet soul cut rich in undulating bass and twinkling keys. Fittingly, Mannmademusic provides a jauntier, deep house flavoured remix.
…

Read more
Played by:
JimmyTheTwin
,
The Last Trip to Gandahar
,
RUSTAM OSPANOFF.
,
Alex Boogie Cafe
,
Jacques Renault
,
Superbreak
,
Djchrisrhythm / SUPER MOTION
,
Tooli (Local Talk / OMENA)
,
Neil Diablo
,
Osmose
,
Roman Rauch
,
Ear Trumpet (The Weekend Soul)
,
Tim Zawada
,
Red Greg
,
Admin
,
Paul Withey / Sweetooth
…

Read more
Items 1 to 2 of 2 on page 1 of 1