Artists
Items 1 to 2 of 2 on page 1 of 1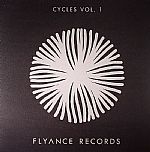 Cat: FLY 001K. Rel: 20 Jan 14
Deep House
Janeret - "Consciousness"

St Sene - "Life"

Ka One - "Film 10.3"

Ka One & St Sene - "Asseed"

Ka One & St Sene - "Minds"
Review: First release of the Paris label based Flyance Records. Label owners Janeret and Ka One & St-Sene, present with the Cycles series theirs own productions. Volume 1 combines the dark depths of deep house and the hypnotic acid vibes.

…

Read more
Played by:
Jane Fitz (Invisible Menders)
,
Life Recorder
,
Dubbyman (Deep Explorer Music)
,
Konnekt [De:tuned]
,
ROTCIV
,
Dave Miller
,
Hernan Cronner
,
Mimi
,
Replika (Deso, Swedish Brandy)
,
Nathaniel jay
,
Derek Carr
,
Sames (Godzilla Kebab)
,
Mark Graham (Contrast-Wax)
,
Malcolm Moore (Altered Moods)
,
Martin Haberland
,
JONNO & TOMMO
,
Juno Recommends Deep House
,
Jorge Caiado (Balance / Groovement)
,
Lwazi Koom
,
Doo
,
Sai aka Blend Architect
,
Miles Atmospheric
,
Ney Faustini
,
Bryan Hervieu
,
Diego Perrisson
,
Andy Green [Verdant Recordings]
,
Brad P/Inner Shift/Common Dreams
,
Joe Montana
,
Djs: Most Charted - Deep House
,
Don Crisp
,
Janeret
,
Anaxander
,
Ka One (Flyance Records)
,
HVL
,
DJP / Soul Print Recordings
,
Jay Hill
…

Read more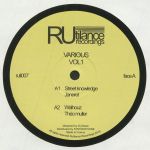 Cat: RUTI 007. Rel: 06 Apr 15
Deep House
Janeret - "Street Knowledge" (6:41)

Theo Muller - "Walhouz" (5:46)

Marotti - "Pressure" (5:19)

Kicks - "Pipeline" (5:48)

Ortella - "Heartbeat" (5:29)

John Jastszebski - "Downtown" (7:25)

DJ Steaw - "Rue D'Hauteville" (deep mix) (6:40)

DJ Steaw - "Walkin'" (5:49)
Review: Operating out of Rennes in France, Rutilance has worked hard to establish itself as a label of note in the deep house field of interest, whilst sticking to a close network of artists such as Sunny Galaxy and Jay Shaw as well as label boss DJ Steaw. This double pack release celebrates what has been achieved in two years of operations with a diverse selection that ranges from the dubby tones of Kicks' "Pipeline" to the even dubbier tones of Ortella's "Heartbeat", and then on to the bassy simmer of John Jastszebski's "Downtown" or the garage bump and calming tones of MArotti's "Pressure". If you're a lover of quality deep house played from the heart then there's more than enough to satisfy your appetite here.
…

Read more
Items 1 to 2 of 2 on page 1 of 1