Artists
Items 1 to 2 of 2 on page 1 of 1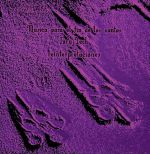 Cat: CDA 022A. Rel: 12 Mar 18
Ambient/Drone
Barreras (Powder remix)

Cuando Rocio Dispara Sus Flechas (Suzanne Kraft remix)

Posmeridiano (Hatchback remix)

Ukraina (Zavoloka remix)
Review: Cocktail D'Amore showed the breadth of their tastes when they reissued Ukranian composer Iury Lech's 1990 album Musica Para El Fin De Los Cantos last year. Now the label has commissioned a raft of remixes from some label regulars, with wonderful and diverse results. Powder drops her signature snaking rhythmic trysts over "Barreras", while "Cuando Rocio Dispara Sus Flechas" benefits from an abstract, ambient reworking from Suzanne Kraft. Hatchback takes to "Posmeridiano" with a delicate touch, all lingering 80s synth motifs in a beatless reverie, and Zavoloka lays the cinematic intensity on heavy with the icy strains of "Ukraina".
…

Read more
Cat: CDALP 002 . Rel: 26 Mar 18
Ambient/Drone
Cuando Rocio Dispara Sus Flechas

Barreras

De La Melancolía

Ukraïna

Posmeridiano
Review: REPRESS ALERT: Lury Lech is a transdisciplinary artist of Ukrainian origin part of the few pioneers in the Spanish electronic and digital audio-visual scene that began to develop during the 80's.

His open and unclassifiable style made of eerie sonic atmospheres, arrhythmic structures and dense textures create hypnotic ambiance and a new way to conceive experimentalism.

Wrongly described as New Age music at that time, "Musica para el fin de los cantos" is a stunning and deeply emotive ambient work, that stares down at the eternal enigma, giving a glimpse of Iury Lech's classical music of the future.
Iury recorded this blissful masterpiece in his Barcelona's studio in 1989. It was then published in 1990 by the unique Spanish label Hyades Arts.

It's 2017 and it's time to unearth this magical piece of vibrating chords to please your sensitive yet hungry ears. Sit back and enjoy the meditative state.


…

Read more
Items 1 to 2 of 2 on page 1 of 1