Items 1 to 2 of 2 on page 1 of 1
Cat: CYN 002.
Industrial/Noise
Desintegrado

Bries

Risadinha

Local Fantasy

In The Spell

Global Boring

Superficial Love

Modus Operandi IV

Forest Shaman
Review: Rough and ready machine tracks from Brazilian producer/December collaborator Innsyter (LA Club Resource). CYN002 picks up where Coletivo Vandalismo left off, channeling that same wild, DIY bedroom studio spirit across nine individual recordings. Opening with sprawling synth motifs fighting against a steady rhythm track, 'Desintegrado' sounds like an industrial dub punk trying to channel early Cluster or Moebius and strangely succeeding. The rest of the LP treats us to vaguely Drexciyan, subaquatic electro ('Bries') and twisted lo-fi minimalism with bonus eerie monologue samples ('Superficial Love'). The one recurring theme on Magnetic Healing is Innsyter's clear love for mournful, post-punk inspired melodies. It comes across loud and clear on almost every track yet never sounds tired. Things eventually draw to a close with the hopelessly romantic new wave instrumental 'Forest Shaman' - a short ballad for all those weary-eyed party-goers who stuck around til the sun came up!





…

Read more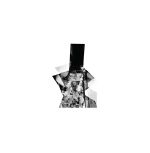 Cat: CY 006 . Rel: 08 May 17
Industrial/Noise
Penelope's Fiance - "Untitled (15)" (2:15)

Nocturnal Emissions - "Even The Good Times Are Bad" (U-202's Always Having A Bad Time mix) (5:20)

Torrent - "EXE 2 Blueprint" (6:31)

Nocturnal Emissions - "Demon Circuits Bloodbath (1983)" (3:23)

Nocturnal Emissions - "Even The Good Times Are Bad (1983)" (4:33)

Innyster - "Todis" (6:08)
Review: Contort Yourself reaches its sixth installment with yet another era spanning gathering of post-punk and industrial oddities for the most deviant of dancefloors to digest. In the contemporary corner we have Penelope's Fiance, a promising industrial artist from Greece. Meanwhile on the B-side, Nigel Ayers as Nocturnal Emissions takes us back to 1983 with the utterly chilling "Demon Circuits Bloodbath" and "Even The Good Times Are Bad". L.I.E.S boss Ron Morelli steps up as U202 to remix "Even The Good Times Are Bad" as a death march of malevolent percussion.
…

Read more
Items 1 to 2 of 2 on page 1 of 1