Items 1 to 3 of 3 on page 1 of 1
Cat: STS 254LP. Rel: 07 Sep 15
Deep House
Kenny Dub Headband (9:47)

Ambient Rab (3:39)

Going Down (7:28)

Dub Shine (4:32)

Another Bird (10:57)

Le Wasuk (repress) (2:26)

Le Wasuk (6:52)

Lovehunter Dub (4:37)
Review: When it comes to production, the Idjut Boys are at their best when they let their dub influences run free. It's why their early, spaced-out deep house releases remain and high demand, and why Versions - a thoroughly dubbed-out re-imagining of their so-so 2012 set, Cellar Door - is arguably their most enjoyable album to date. Presumably put together while exceedingly high, the album's seven re-titled alternate takes flit between glistening Balearic dub (the 11-minute, gently evolving journey that is "Another Bird"), thrillingly percussive, Afro-and-rock tinged dub disco ("Lovehunter Dub", "Le Wasuk"), undulating dancefloor epics (the echo-laden piano and chugging rhythms of "Kenny Dub Headband") and the kind of drowsy ambient fare that recalls the finest Fila Brazilia productions ("Ambient Rab").
…

Read more
Played by:
Mike Misiu
,
Felix Dickinson
,
Gaetano Battista
,
Sito / / Mischio Dischi Disco
,
Manu•Archeo
,
Martin Haberland
,
Lexis (Music Is My Sanctuary)
,
Nick Anthony Simoncino
,
Eddie C
,
KevinTsuba
,
Richard Zepezauer (RZ-1)
,
JKriv (Razor-N-Tape)
,
Steve Lee
,
Jamie Fatneck
,
ADAM WARPED aka Johnny Blackouts
,
Terrence Pearce
…

Read more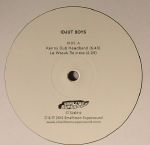 Cat: STS 26512. Rel: 05 Oct 15
Disco/Nu-Disco
Kenny Dub Headband (6:47)

Le Wasuk (repress) (2:25)

Le Wasuk (long LP dub One) (9:59)
Review: Here's something of a novelty: alternative versions of alternative versions. As a partner to their deliciously dubby Versions LP - in which they reworked their own back catalogue - the Idjut Boys has decided to release a trio of new versions of their remixes. First up is "Kenny Dub Headband", a shorter, edited and re-dubbed rework of their freeform dub disco re-imagining of classic Kenny Hawkes' tribute "One For Kenny". While "Le Wesuk (Repress)" bears a striking similarity to the Versions album mix, the same can't be said for the flipside "Long LP Dub" of the same track. Utilising all of the weaponry in their stoner arsenal - bongo-laden rhythms, heavy additional percussion, jangling flashes of acoustic guitar, reverb and several tons of delay - the duo stretches the track out to 14 mesmerizing minutes.
…

Read more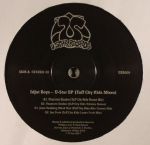 Cat: USR 000. Rel: 24 Apr 17
Deep House
Phantom Slasher (Tuff City Kids mix) (7:21)

Phantom Slasher (Tuff City Kids Tribales bonus) (3:57)

Jesta Twakling Whok Tish (Tuff City Kids Afro Cosmic mix) (6:42)

Jazz Fook (Tuff City Kids Lectro Fook mix) (6:29)
Items 1 to 3 of 3 on page 1 of 1