Artists
Items 1 to 2 of 2 on page 1 of 1
Cat: REGRD 002. Rel: 01 Feb 16
Disco/Nu-Disco
Sanctified (6:38)

Watchasay (6:58)
Review: Midland's new edit series ReGraded launches into its second release, this time by Irishman Hubie Davison who has previously released on Berlin's Leisure System. "Sanctified" has supposedly been a staple of Midland's recent DJ sets and become a real hit, prompting him to release it on ReGraded... and thank goodness for that! Reenergising Donna Summer's classic "Spring Affair" from 1976 into a pumping, flanged and stuttering dancefloor bomb. On the flip we've got "Watchasay" which is a rolling, disco house chugger, using some of the same samples from Homework's 2011 hit "Whipped Cream" along with some killer bongo drums.
…

Read more
Played by:
Dicky Trisco
,
Simba (Shadeleaf Music)
,
Aaron Dae (Razor-N-Tape)
,
Alex Zuiev
,
Javi Frias
,
Lexis (Music Is My Sanctuary)
,
JKriv (Razor-N-Tape)
,
Osmose
,
Jamie Fatneck
,
Magnier (House of Disco)
,
Jean Claude Gavri
,
KS French
,
Resident Advisor
,
Shaka (KolourLTD, Balance Alliance)
,
Pontchartrain
,
Peter Croce (Rocksteady Disco)
…

Read more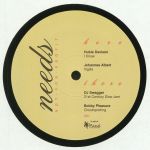 Cat: NNFP 001. Rel: 04 Dec 17
Deep House
Hubie Davison - "I Know" (7:04)

Johannes Albert - "Vigilia" (4:35)

DJ Swagger - "21st Century Slow Jam" (5:40)

Bobby Pleasure - "Cloudspotting" (7:34)
Review: Needs (not-for-profit) is a new label that aims to raise awareness about different issues within society with each release. Their first offering highlights the importance of mental wellbeing, with all profits being donated to mental health charity Mind, and calls upon a strong cast of deep house producers to impart the kind of Smallville-friendly sounds that discerning heads should snap up in a heartbeat. Hubie Davison's "I Know" is a melancholic affair with heart-nagging strings, while Johannes Albert injects a little spice into proceedings with a choice breakbeat and some excellent bird song on "Vigilia". DJ Swagger's "21st Century Slow Jam" is a peppy little shuffler with warm acidic bass and a kick ass swing in the beat, and then Bobby Pleasure finishes the record off with the wistful but tech-edged "Cloudspotting".
…

Read more
Items 1 to 2 of 2 on page 1 of 1