Artists
Items 1 to 2 of 2 on page 1 of 1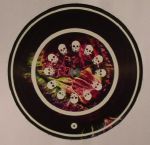 Cat: HAPSKL 012. Rel: 10 Apr 17
Techno
Melody 4 Your Mind (7:42)

You Belong 2 (8:49)
Review: Jimmy Billingham's HOLOVR project has grown into something of an essential listen for us these days, and we're not shy to say that we think this guy is one of the few remaining artists who are truly at the 'outside' of the house music spectrum. Many attempt to sound loose, explorative and lo-fi, but this guy has just cracked the formula. After an excellent string of appearances for the likes of Opal Tapes and, more recently, House Of Traps' Firecracker Recordings stable, the artist joins Bristol's Happy Skull imprint with two supremely ethereal slices of kinetic electronic waves. "Melody 4 Your Mind" is not all ambience, however, and it's flurry of melodies are actually locked into a tight percussive roll thanks to those bass drums travelling way down below; it's an endlessly wondrous affair, and one with a distinctive capability to appeal across the dance world. On the B-side, things get wilder with "You Belong 2", a buzzing, acid-laden dance abstraction that takes the whole acid house strain to a new and untrodden sort of territory. Recommended!
…

Read more
Cat: ERSS 006. Rel: 16 Apr 18
Balearic/Downtempo
Matthewdavid's Mindflight - "Sonos"

HOLOVR - "Horizon Dub"

HOLOVR - "Mind Movement"

HOLOVR - "Mycomorph"
Review: "Emotional Response continues the second SchleiBen series with a pan-ocean exploration of meditative spiritualism meets psychedelic ambience.

The 2nd of the 4 part series expands with the inclusive offerings from LA's Matthewdavid and London's HOLOVR for a cyclical journey of altered consciousness against lush 303-tinged harmonics.

First, Matthewdavid provides a 20-minute live recording to showcase his "meditation with music". Beat maker, producer, label owner, radio host and now new age explorer, Matthew David McQueen has been a fixture of the City Of Angles music scene for over a decade. However, it was his association with Tropical Hi-Fi (SchleiBen 3) that first attracted the label's attention to dig deeper in to his developing sound.

As Leaving Records founder he has a prominent role is shaping the cities sound that has seen him work with Sun Araw, Laraaji and a myriad of the label's roster. Here performing in most his recent incarnation, Matthewdavid's Mindflight - having just released the wonderful Trust The Guide And Glide double album opus - is Sonos.

Recorded live at Dublab Radio's "Tonalism" event at Sonos Studios, the piece utilises Critter & Guitari Pocket Piano, Hulusi Flute and Ableton Live to create movement, fade and sequence. A looping realisation, music inside music, thresholds expanded, connecting the centre, a place, origin, a soul that allows a devout expression to exude and find mediation in sound. This is music to get lost and at the same, get found in.

Set against these endless arp-loops, is HOLOVR, raising a more focused consciousness that is a perfect counterpoint. Having already appeared on the label via his recent, deep, eloquent remix of Sad City, as well as releasing with label favourites Opal Tapes, Further Records and Firecracker, the desire to work with another uniquely individual producer has been in place for several years.

Recorded using only hardware; 303 lines, soft pads, arpeggio synths and Roland percussion capture a snapshot of time in a natural, in-the-moment negotiation of these different elements, giving trademark, open, drifting loops that let the listener within, while texture and tone engage, activating harmonic resonances almost as a drone. This progressive disintegration, tuning in and dropping out of musical spheres envelops while hinting at aphex influences and (artificial) intelligence.

SchleiBen shifts, expanding, growing, pulsating. Keep the faith and (un)listen.
"





…

Read more
Items 1 to 2 of 2 on page 1 of 1