Henry Stone
Items 1 to 1 of 1 on page 1 of 1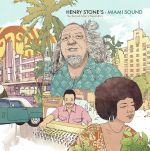 Cat: AOTNLP 002CD. Rel: 29 Jun 15
Funk
Little Beaver - "Concrete Jungle"

Milton Wright - "The Silence That You Keep" (version 1)

Lynn Williams - "It Takes Two"

Raphael Munnings - "Sleep On, Dream On"

Wildflower - "You Knock Me Out"

Jimmy 'Bo' Horne - "Hey There Jim"

Leno Phillips - "Confusion"

Phillip Wright - "Keep Her Happy"

Willie Johnson - "Lay It On Me"

Johnny K - "I Got Bills To Pay"

Funky Nassau - "Bahama Soul Stew"

Formula 1 - "Walking With My Eyes Closed"

Stevens & Foster - "I Want To Be Love"

Oceanliners - "Cutting Room (Hot Pants)"

Jimmy 'Bo' Horne - "If You Want My Love"

Brand New - "Thousand Years"

T Connection - "Do What You Wanna Do"

Beginning Of The End - "Super Woman"

Robert Moore - "Tears Of The World"

Friday Saturday & Sunday - "There Must Be A Better Way"
Review: Back in the mid 1970s, young engineer Terry 'T.K' Kane and Harry Stone joined forces to launch a studio and record distribution business in Miami. It would spawn a huge number of in-house labels, and even greater number of funk and disco releases, and even a string of million-selling artists. Given this legacy, it's little surprise to see Athens of the North paying tribute to the funk side of Henry Stone's impressive legacy with this superb collection. While there are a few tried-and-tested cuts to be found - see the T Connection and Little Beaver cuts - for the most part The Miami Sound focuses on more obscure - but no less hard-hitting - gems from the likes of Jonny K, Stevens & Foster and Leno Philips.
…

Read more
Items 1 to 1 of 1 on page 1 of 1