Items 1 to 3 of 3 on page 1 of 1
Cat: BBOX 003. Rel: 13 Jun 16
Deep House
Haus

Haus (Chris Carrier remix)

440 BC

Thinking out loud
Review: Third chapter for Blind Box Series back in the game with a brand new release from label owners Julien Sandre and Konstress. This time Blind Boxers proudly share the Ep with house giants Hector Moralez and Chris Carrier, exploring some of the finest shades of the underground dance music. Vintage drums, bubbling synth elements, trippy pad lines, everything mixed with that unique forward-thinking nature that marked this platform as one of the most appealing vinyl-only record label out there.

…

Read more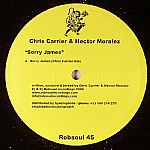 Cat: ROBSOUL 45. Rel: 30 May 06
Minimal/Tech House
Sorry James (Chris Carrier mix)

Sorry James (Minority's Rub Le Dub mix)

Dissology
Review: Robsoul Friends are back with a new EP! After their last track together "Real Juice" & the best track "The Acid", they delivery a solid EP with 2 funky tracks directly in line with their influences. Maybe "Sorry James" is sample from a disco classic (find it!) used by Sneak on Strictly! Still, sub-bassline & vocoder voices here, Chris & Hector have done a remix themselves for this EP! Minority dub like old Frisco track with perfect drums!
…

Read more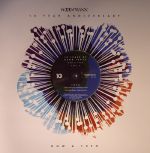 Cat: HUDD 052. Rel: 28 Sep 15
Deep House
Eddie Leader - "Way Back" (feat Hector Moralez) (5:54)

Washerman - "Twilite" (6:43)

Brett Johnson - "Mr Smarty Pants" (6:12)

Rhythm Plate - "Keep Moving" (6:40)
Review: Hudd Traxx 3rd installment of their 10th Anniversary series comes from Eddie Leader, Hector Moralez, Washerman, Brett Johnson & Rhythm Plate. Label owner Eddie Leader delivers a deep & moody house groover with the slick vocals of long time Hudd Artist Hector Moralez, aptly title 'Way Back'. Washerman picks the pace up with 'Twilite', which is reminiscent of legendary Detroit label Underground Resistance, and adds to the continued diversity of this project. Brett Johnson's 'Mr Smarty Pants' is re-released after gaining plays from the likes of Laurent Garnier and an edit by Dyed Soundorom. Closing out the EP are 2 of the most underrated Producers in the business; Rhythm Plate. 'Keep Moving' was Overshadowed by 'Inside Me' on the 'Robbin Hudd EP' in 2007 but is given it's time to shine on 'Now & Then Part 3' and is a fine addition to the 10 Year celebrations.
…

Read more
Items 1 to 3 of 3 on page 1 of 1