Havantepe
Items 1 to 2 of 2 on page 1 of 1
Cat: ALI 001. Rel: 13 Feb 17
Techno
The Hollow Ghost (8:17)

Wandering Through Crowds (7:40)

Face Down (7:37)

Half Dull (7:37)
Review: Ismail Genc has been making some pretty killer techno under the name Havantepe, and we're particularly into his style of dance music because it goes back to the roots of the genre, straying close to the 'dub' end of the spectrum that was pioneered by the likes of Basic Channel. However, tunes like the opening "The Hollow Ghost" has enough drive at its core to render it playable even in the middle of a peak-time set, with the same going for the relatively more somber melodies of "Wandering Through Crowds". "Face Down" is a bubbling techno melter with a rough beat pattern and a bouncy bassline, whereas "Half Dull" lashes out subtle waves of 303 glory from every angle. A tight, masterfully executed EP.
…

Read more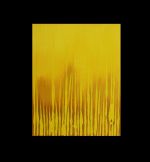 Aura
(180 gram vinyl 12")
Cat: VR 002. Rel: 11 Sep 17
Deep House
Havantepe - "Phosphor"

Low Orbit Satellite - "Twilight Stealth"

RV800 - "Lost Reality"

Mick Welch - "Ornate Trails"
Review: Verdant returns for a second round to explore more of that tender space between house and techno where the original machine soul spirit of Detroit rings out in every synth chime. Just listen to Havantepe's "Phosphor" if you need further proof. Low Orbit Satellite equally deals in luscious layers of harmony, from the languid chords to the chirpy acid lines and beyond. RV800 has a more mechanical outlook on "Lost Reality", channelling a little classic bleep energy but with a modern minimal veneer. Mick Welch rounds the EP off with a sublime trip through mellow techno sounds on "Ornate Trails".
…

Read more
Items 1 to 2 of 2 on page 1 of 1