Items 1 to 2 of 2 on page 1 of 1
Chekov - "Spring"

Duckett - "Lost In Israel"

Lack - "Track 3"

Haddon - "Anabiosis"
Review: Cong Burn go deep on their third record with Freerotation affiliate Duckett making his first appearance on the label and Chekov following up his recent contribution to Timedance. The heady A-side opens with Chekov's 'Spring' which has spent the last few years popping up in sets from Lena Willikens, Call Super and the Hessle Trio. Duckett's 'Lost In Israel' rolls through its first half carried by complex arpeggios before its layers are broken down and evaporated. On the B side Lack provides a extended and dubbed out DJ tool sounding like if Kowton released on Workshop. Haddon's 'Anabiosis' ties this batch together having first appeared on Cong Burn's debut CDR back in 2015 - since then it has become a go-to opener, closer and after party ender.





…

Read more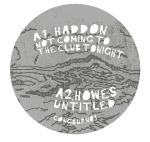 Cat: CB 01. Rel: 07 Aug 17
Deep House
Haddon - "Not Coming To The Club Tonight"

Howes - "Untitled"

L Pearson - "PSR1170"

Perfume Advert - "Dyn Horizontal Multiburst"
Review: Cong Burn is a new label that features a range of producers plying a more interesting twist on the standard deep house formula. Take opening case in point Haddon, who uses oodles of processing to create a slippery, shifting tripper out of "Not Coming To The Club" and instantly stepping aside from the run of the mill milieu. Howes then pops up with the snaking, ultra-deep electro abstractions of "Untitled". L Pearson is in a particularly cheeky mood with the scratchy micro-sampling fun of "PSR1170", calling to mind the crafty chops of Paradroid et al, and then Perfume Advert book end the release with some beautifully horizontal deep house for the subliminally minded to revel in.
…

Read more
Items 1 to 2 of 2 on page 1 of 1