Items 1 to 2 of 2 on page 1 of 1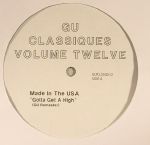 Cat: GUCLSSQS 12. Rel: 09 Jan 17
Disco/Nu-Disco
Made In The USA - "Gotta Get A High" (GU Remaster) (4:03)

Vivian Reed - "Don't Start Something You Can't Finish" (GU Remaster) (5:57)

Lonnie Liston Smith & The Cosmic Echoes - "A Chance For Peace" (GU Timestretch) (4:53)
Review: Chicago house badman Glenn Underground kicks off 2017 with a fiery trio of edits, written and packaged in his inimitable style. Coming straight through his own GU Classics imprint, the man gets down and dirty on his sleazy edit of "Gotta Get A High" by Made In The USA, packing a mean punch of boogie bass tones and lazy disco strings. The B-side gets down with a GU Remaster of Vivian Reed's "Don't Start Something You Can't Finish", while the GU Timestretch of "A Chance For Peace" by Lonnie Liston Smith & The Cosmic Echoes is a true burst of wonder and soul, magnetic as the original but just a little bit more dancefloor-prone. So ill...
…

Read more
FORTHCOMING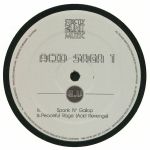 Cat: SJU 12R26. Rel: 30 Oct 17
Deep House
Spank N Gallop

Peaceful Rage (Acid Revenge)
Review: Glenn Crocker seems to have rediscovered the simple, mind-altering pleasures of Roland's iconic TB-303 bass synthesizer. On another 12" out this week, 808 Sessions, the veteran Chicagoan wrapped wiggly acid lines around electro-influenced drums and his usual rich deep house musicality. Here, he's gone one step further, delivering a pair of twisted, intoxicating acid jams that look to Phuture for inspiration. A-side "Spank N Gallop" sets the tone, with Crocker supplementing a killer acid line with notably jazzy cymbal hits, drum machine tom-toms and occasional spacey chords. The deep space vibe is explored in greater detail on flipside "Peaceful Rage (Acid Revenge)", where intergalactic chords and bubbly electronics get equal billing with a psychedelic TB-303 riff.
…

Read more
Items 1 to 2 of 2 on page 1 of 1