Items 1 to 3 of 3 on page 1 of 1
Yoga On E

Tokyo Breaks

Magic Arpz

Ezoteric Massage (EXXXtented Pleasure mix)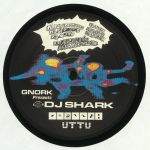 Cat: UTTU 082. Rel: 12 Dec 17
Drum And Bass
Future Music (10:25)

Shroomz (7:17)

Outro (2:19)

Future Music (Legowelt remix) (5:59)

Outro (Fantastic Man remix) (6:31)
Review: Gnork returns to UTTU for his annual DJ Shark adventure. As broken, classically-trained and timeless as ever, this time round he's treating us to three poignant pieces: "Future Music" is a white knuckle ride down early jungle lane with all the breezes and rushes you could ever ask for; "Shroomz" is led by a beautifully filtered harmonic synth tone that is nicely reminiscent of the tunes trippy title while "Outro" brings the comedown fuzz, all lush and languid. Remix-wise Legowelt opens a whole can of crazy and sprays it all over "Future Music" while Fantastic Man flips "Outro" into a pensive piece of creepy 4/4 deepness.
…

Read more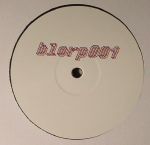 No Moon - "AoE Cutz" (6:18)

Gnork - "Lose Control" (6:39)

Douala - "Track 3" (6:09)

S Channel - "Polar Express Pigeon" (5:31)
Review: New imprint Blorp is described by its' creators as an outlet for "dream music from outer space". It's a fairly accurate description, because the four tracks showcased on this first label sampler deliver spacey, Motor City-influenced deep house goodness in spades. No Moon opens proceedings with the gentle acid lines, reverb-heavy dream chords and undulating machine drums of "AoE Cutz", before Gnork doffs a cap to early '90s ambient house and intelligent techno with the luscious "Lose Control". Flip for Douala's "Untitled 1", a broken beat/ultra deep house hybrid that evokes memories of Neo Image's recent work for Pacific Rhythm, and the deep space sludge of S Channel's trippy "Polar Express Pigeon".
…

Read more
Played by:
Tomi Chair
,
Life Recorder
,
Debukas
,
Nathaniel Jay (Love Notes)
,
Jacques Renault
,
ESB
,
Monsieur Cedric (Serie Limitee)
,
Per Bojsen-Moller
,
Marcelo Tavares(Deep Space Podcast)
,
Rumore
,
Joe Montana
,
Wasserfall
,
Djs: Most Charted - Deep House
,
No Moon
,
Gnork
,
Coca District
,
Shall Not Fade
,
Nachtbraker
,
Leon Revol
,
Rudolf C
…

Read more
Items 1 to 3 of 3 on page 1 of 1