Items 1 to 2 of 2 on page 1 of 1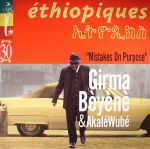 Cat: HS 161VL. Rel: 14 Feb 17
International
Tewedjign Endehu (Ahun Negerign) (3:33)

Ene Negn Bay Manesh (4:23)

Muziqawi Silt (6:26)

Enken Yelelebesh (4:00)

Bemelkesh Aydelem (9:29)

Feqer Ende Krar (Yebeqagnal) (3:54)

Meslogn Neber (3:31)

Fetsum Fetsum (Tirulegn Tolo) (2:51)

For Amha (5:55)

Set Alamenem (5:15)

Wub Nat (3:57)

Melewetesh Menew (6:20)

Tsegereda (3:52)

(Malus Track) Tewedjign Endehu (Ahun Negerign) (3:15)
Review: Paris' Heavenly Sweetness label is rightly proud of this 30th volume in the Ethiopiques series. It's a cross-generational collaboration between legendary Ethiopian singer and keyboardist Girma Beyene - best known for his jazz work in the late 1960s - and contemporary Parisian band Akala Wube. Given that the latter is dedicated to creating music inspired by Ethiopian music of the '60s and '70s, it's little surprise to find that Mistakes On Purpose is a hugely enjoyable and authentic-sounding set (think funk, soul and jazz with an East African twist). To add an extra level of authenticity, Ethiopiques founder and East African music specialist Francis Falceto acted as producer.
…

Read more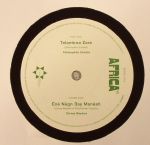 Cat: AFRO 45010. Rel: 18 Jan 16
International
Alemayehu Eshete - "Telantena Zare" (3:46)

Girma Beyene - "Ene Negn Bay Manesh" (4:03)
Review: vKeen Africa 45 followers should recognise Eshete's name as he's appeared on the series before. Mr Bongo call him the Ethiopian James Brown and the Abyssinian Elvis... And they're not far off. This 74 rarity shows him crooning and crying at full pelt over a solid funk groove that's powered by piano and guitar. Flip for an equally rare vocal track from fellow Ethiopian Girma. Recorded in 69, full focus is squared on the lavish organ leads while the horns provide a soft but sturdy backdrop.
…

Read more
Items 1 to 2 of 2 on page 1 of 1