Items 1 to 2 of 2 on page 1 of 1
Cat: MTCD 013. Rel: 05 Oct 15
Minimal/Tech House
Moogy Mank

We Get Down

Well

This Is It

My Medicine

Siren Sinth

Galaxy Style

I Don't Know Why

Eastward Course

My Own Mind

Stellar Caravan

2000 People Outside
Review: It would be fair to say that Gary Martin is one of Detroit's unsung heroes. The Teknotika Records boss has been releasing spacey, futurist blends of house, techno, ambient and electro since the dawn of the '90s. Here, he pops up on DJ3000's Motech imprint, with his fourth full-length (and his first since 2007). It's a predictably varied affair, with Martin showcasing his full arsenal of dancefloor weaponry. After beginning with the falling, shimmering electro-meets-house grooves of "Moogy Mank", Martin variously touches on big room tech-house, low-slung techno, piano-heavy goodness, synth-heavy tribal funk (the sparkling, acid-laden "My Medicine"), fizzing deep house, and, in the case of "My Own Mind", a 21st century take on Inner City.
…

Read more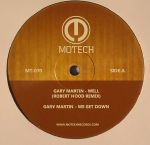 Cat: MT 070. Rel: 14 Sep 15
Techno
Well (Robert Hood remix) (6:21)

We Get Down (6:20)

We Get Down (DJ 3000 remix) (6:54)

Well (5:52)
Review: Under-rated Detroit innovator Gary Martin is back. Not on his legendary Hypnotika imprint, rather DJ 3000's Motech which equally has been rather quiet of late. Who cares; they're here once again and in good form. The Robert Hood remix of "Well" is the kind of sure-fire, peak time cyclical treatment that this legend could lend a version to, but not of typical of him as you'd think.. It's great! The original (on the flip) is damn good too; a smooth and sleazy slow burner with enough atmosphere for those cool down moments. "We Get Down" is the usual sound of Martin; tribal and esoteric. The DJ 3000 remix getting possibly more minimal and soulful than the Hood remix heard previously.
…

Read more
Items 1 to 2 of 2 on page 1 of 1