Items 1 to 2 of 2 on page 1 of 1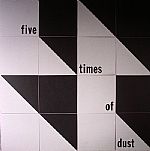 Cat: MW 048. Rel: 26 Nov 13
Coldwave/Synth
Smile With The Eyes

Advertising Space

Sayonara

I Want Straight Sex

The Single Off The Album

Plastische Taschen

Ethnic Bomb

Estate Children

Insect Charge

Technology

Megamix

The Mainframe

Riding To Heaven

Covered In Dust
Review: The second of three rather dashing looking Minimal Wave releases this week throws the focus on the early 80s work of Bristol duo Five Times of Dust. Minimal Wave's interest in Robert Lawrence and Mark Philip's work together was first revealed back in 2011 with the inclusion of their composition "Computer Bank" on The Hidden Tapes compilation, whilst Veronica Vasicka's label hinted at a more substantial Five Times Of Dust offering earlier this year with the cassette reissue of The Dadacomputer, Phillips and Lawrence's debut release together. Smile with the Eyes is that promised extensive reappraisal of Five Times of Dust, drawing from a large pool of unreleased material recorded by Robert Lawrence and Mark Philips between 1982 and 1986, which fully justifies the label's description as "perfectly formed electronic curiosities". Cuts like "The Single Off The Album" and "Ethnic Bomb" demand further investigation.
…

Read more
The Floor Mixes
(limited hand-numbered blue vinyl 12" in hand-stamped sleeve)
Cat: MW 065. Rel: 19 Dec 17
Techno
Five Times Of Dust - "Computer Bank" (The Floor mix) (7:12)

Five Times Of Dust - "Armoured Car" (6:57)

Unovidual & Tara Cross - "Like I Am, Comme Je Suis" (The Floor mix) (7:11)

Unovidual & Tara Cross - "Imponative" (3:28)
Review: Thanks to the eternally revered Minimal Wave imprint, out of NYC, Mark Phillips and Robert Lawrence's Five Times Of Dust project is going through a bit of a revival. The duo had first released some post-punk cassettes back in the 80s, and they clearly have not been forgotten. On this new remix EP, "Computer Bank" is given a makeover in the form of a The Floor remix, who proceeds to add all sorts of quirkiness over the tune's tough, heavy bass and driving rhythm; "Armoured Car" breaks the 4/4 in favour of something much closer to the band's original drum machine style. Once again, on the flip, we have a remix of "Like I Am, Comme Je Suis" by The Floor, who throws up a gnarly electro bass onto shady, neo-romantic vocals, and the whole things is finished off by "Imponative" from Unovodual and Tara Cross, who produce a slow, heady industrial groove for the dancefloor.
…

Read more
Items 1 to 2 of 2 on page 1 of 1