Artists
Items 1 to 2 of 2 on page 1 of 1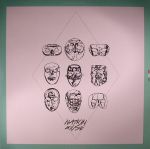 Cat: LCNH 002. Rel: 06 Mar 17
Deep House
Giovanni Damico - "No Al Maltrattamento Dei Samples" (5:29)

Pascal Viscardi - "La Ragazza Del Lago" (6:19)

Marcello Napoletano - "Insignami" (6:55)

Lucretio - "I Piu Piccoli" (6:33)

Christian Lisco - "55" (5:02)

Paolo - "Pericolo" (5:20)

Bassa Clan - "Notte Brava" (6:57)

Fede Lng - "La Volpe" (4:58)
Review: According to La Chinerie themselves. after repping their dear home of France on the first volume, they are 'this time enlightening Italy's house scene through an eclectic V/A gathering eight tracks from eight talented macaronis.' Southern Italy represents in the form of Salerno's Giovanni Damico with the funky and dusty soul heaven of "No Al Maltrattamento Dei Samples" while Lecce's finest Marcello Napoletano delivers the goods as always on the gritty house shenanigans of "Insignami". Elsewhere, there's Restoration's Lucretio (via Berlin of course) delivering some muscular, hardware oriented grooves on "I Piu Piccoli" while the north of The Beautiful Country represents too, rest assured, in the from of Bologna's Bassa Clan with the bouncy and swinging NYC circa '94 vibe of "Notte Brava".
…

Read more
Cat: PNP 002. Rel: 15 Dec 17
Deep House
Slamb - "Needs"

Turk Turkleton - "Why Must There Be An End"

Fede LNG - "Be Thankful What U Gat"

DJ Swagger - "I Don't Need Your Love"

Gutistinct - "The Girl You Love"
Review: PNP's first collection of sample-heavy disco-house reworks, released earlier in 2017, sold out in record time. It's likely that volume two won't hang around long, either. Predictably, it's packed with party-starting jams, from the cheeky R&B vocals, bumpin' beats and disco guitars of Slamb's "Needs", to the slinky, filter heavy soul-goes-deep house sweetness of Gut Instinct's impressive closer, "The Girl You Love". In between, DJ Swagger combines snappy, ghetto house style drums and R&B vocals on "I Don't Need Your Love", Turk Turtleton beefs up an '80s soul/boogie gem and Fedde LNG offers up a smooth and floor-friendly take on a much-loved disco-era sing-along.
…

Read more
Items 1 to 2 of 2 on page 1 of 1