Artists
Items 1 to 2 of 2 on page 1 of 1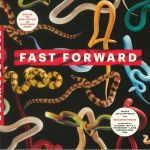 Cat: VF 254. Rel: 29 Jan 18
Disco/Nu-Disco
DJ Tennis - "Truth Or Consequences" (feat Sebra Cruz) (6:22)

Kiwi - "Avocet" (7:38)

T&P Aka Tim Sweeney & Lauer - "Dance To T&P" (5:04)

Fantastic Man - "The Times We Loved & Miss" (6:23)
Review: This tasty double-pack is the result of a collaboration between self-styled "renegade art publication" Toilet Paper, Nike Lab, nomadic Internet broadcaster Automat Radio and Vinyl Factory. The basic idea was to gather together previously unheard tracks from artists based in four different countries. Italy's DJ Tennis teams up with Sebra Cruz on opener "Truth Or Consequences", layering bubbly and attractive nu-disco synths over a rubbery house rhythm. London-based rising star Kiwi explores the worlds of breezy new wave and bubbly Italo-disco on the picturesque "Avocet", while Tim Sweeney and Phillip Lauer (as T&P) channel the spirit of Metro Area and Gina X on EP standout "Dance To T&P". To round things off, Aussie Fantastic Man serves up a fiendishly fuzzy chunk of chiming synth-pop/deep house fusion.
…

Read more
Cat: SCR 010. Rel: 18 Dec 17
Techno
Reality Change (6:43)

Cool Waters (7:10)
Review: Aussie artist Fantastic Man returns to action following a quiet 2017 with a two-track missive that's decidedly different from the warm, disco-tinged deep house with which he made his name. While both "Reality Change" and "Cool Waters" retain the core warmth and attention to detail we've come to expect, both look to the sci-focused futurism of classic Detroit techno for inspiration. "Reality Change" is perhaps the more spacey and dreamy of the two, with meandering, elongated chords rising above a bustling, acid-flecked, techno-tempo groove. "Cool Waters", on the other hand, feels more urgent in tone, with heavier analogue bass and sleazy, cut-up vocal samples combining to create an incessant late night groover.
…

Read more
Items 1 to 2 of 2 on page 1 of 1