Items 1 to 1 of 1 on page 1 of 1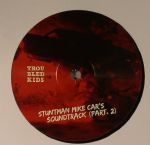 Cat: TKR 013. Rel: 04 Apr 16
Deep House
Alton Miller - "When The Morning Comes 2nd"

Jesus Gonsev - "Traits Of Humankind"

Miruga - "Endless Waltz"

Ernie - "Sharepoint"
Review: Stuntman Mike is a guy with special taste for cars, women and especially music. In his car radio groove is allways present. Here's a second part of what he prefers to hear when things get interesting. From Motor City , a house legend like Alton Miller, gives us a gem with this detroit house sound. From the city of rising sun Miruga makes an elegant, jazzy and groovy awesome track. And from Spain two deep house masters . On the one hand Jesus Gonsev brings a tasty bass and juicy string. On the other hand Ernie explores his dark side with this deep and dusk track. Four great artists for this new soundtrack. Mike's takes it out loud in his car. What are you waiting to do in yours? LImited to 300 copies.
…

Read more
Played by:
Owen Jay (Batti Batti / Gauss )
,
Tomi Chair
,
Ernie (Minuendo Recordings)
,
TiTo (Troubled Kids Records)
,
Rai Scott (Inner Shift Music)
,
Satore (Hizou Deep Rooted Music)
,
Jesus Gonsev
,
Juno Recommends Deep House
,
Cottam
,
Alex Bradley
,
Djs: Most Charted - Deep House
,
DJP / Soul Print Recordings
,
Rob Belleville
,
Marco Celeri
,
Miruga
…

Read more
$8.78
SAVE 25%
in stock
$6.59
Items 1 to 1 of 1 on page 1 of 1