Items 1 to 1 of 1 on page 1 of 1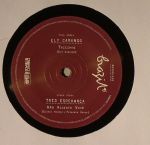 Cat: BRZ 45018. Rel: 19 Jan 15
International
Ely Camargo - "Taieiras"

Trio Esperanca - "Nao Aguento Voce"
Review: Mr Bongo plunders the Brazilian vaults for more long-forgotten Latin classics. Besides the fact that she was pretty prolific (12 albums between 1960 and 1983) Mr Bongo don't know much about Ely... Her music tells us volumes, however. Minimal, jaunty and wholly vocal-focussed, there's a great sense of mischief about "Taieiras" as the band and singers develop momentum. Even less is known about Trio Esperenca besides the fact they're sisters. Solid vocal soul, backed with lush, rich harmonies and a catchy Motown finish, it's the type of track you feel you've known forever.
…

Read more
Items 1 to 1 of 1 on page 1 of 1