Items 1 to 3 of 3 on page 1 of 1
Cat: RE 13. Rel: 21 Mar 18
Drum And Bass
Anthropomorphism (4:53)

Veil Of Ignorance (feat DB1) (6:49)

Consequentialism (4:53)

Reductio Ad Absurdum (4:43)

Asymmetric Attitudes (4:56)
Review: Destination Romania: Eduard Costea returns to re:st with a five-track trip to the very fringes. From the spacious, absent minded drumset of opener "Anthromorphism" right through the final data glitch of "Asymmetric Attitudes", it's a singular escapade that joins dots between jungle, experimentalism and futurism. Duck from the cascading data of "Consequentialism", weave amid the rolling breaks of "Veil Of Ignorance", dig deep and buckle up...
…

Read more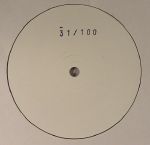 Continentia
(numbered hand-stamped 12" + insert limited to 100 copies)
Cat: RE 04. Rel: 18 Mar 16
Experimental/Electronic
Ill K - "Neutron" (4:55)

Ill K - "Neutron" (Dyl remix) (4:58)

Ill K - "Neutron" (Owl remix) (5:05)

DYL - "PPXXPP" (4:52)

DYL - "OAI" (4:55)
Cat: RE 15.
Drum And Bass
Owl - "Sidereal Time"

Projekt22 & Deaf Ray - "Seek Assistance"

Dyl - "Hangar"

Dailiv - "Reflection"
Items 1 to 3 of 3 on page 1 of 1