Artists
Items 1 to 2 of 2 on page 1 of 1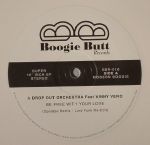 Cat: BBR 010. Rel: 21 Sep 15
Disco/Nu-Disco
Drop Out Orchestra - "Be Free With Your Love" (feat Vinny Vero - Opolopo remix - Lord Funk re-edit) (6:36)

Al Velilla - "Fearless" (feat Opolopo) (5:07)
Review: Boogie Butt get busy with the perennial Opolopo as he adds his magic touch to two already great disco joints; first up are the futuristic shades wearing Drop Out Orchestra whose 2013 burner "Be Free With Your Love" gets a slight swing and velvet synth touch. Flip for Al Velilla's "Fearless" wherein Opolopo gets his swing on and flips the groove into a juicy p-funk jitterbug. Smooth.
…

Read more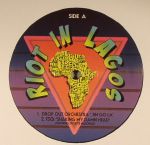 Cat: RIL 1. Rel: 12 Dec 16
Disco/Nu-Disco
Drop Out Orchestra - "Jin Go La" (5:50)

FSQ - "Shaking My Damn Head" (feat Dolette McDonald) (4:47)

Perdu - "Cece" (6:32)

South Beach Recycling - "Bongo Man" (5:00)
Review: Midnight Riot's recently-released Riot In Lagos compilation paid tribute - in some style, we should add - to the enduring influence of African music on contemporary dance culture. This sampler 12" gathers together four of the most sought-after cuts from the digital-only set. Drop Out Orchestra kick things off with the fuzzy guitars, glistening solos, relentless handclaps and bongo-heavy drum rhythms of Candido tribute "Jin Go La", before FSQ deftly fuse Afro-disco and electrofunk on dancefloor stomper "Shaking My Damn Head". On the flip you'll find the breezy, Balearic-influenced Afro-disco fluidity of Perdu's "Cece", and the sun-kissed juju business of South Beach Recycling's fabulous "Bongo Man".
…

Read more
Items 1 to 2 of 2 on page 1 of 1