Items 1 to 3 of 3 on page 1 of 1
Cat: KYOKU 002. Rel: 20 Oct 16
Deep House
Tender (3:55)

Jass (4:58)

Victory Lap (6:07)

Jass (Paxton Fettel Funkfever Cure) (6:32)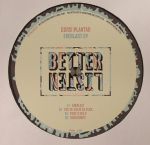 Cat: BLR 004. Rel: 17 May 17
Deep House
Everlast (6:08)

You're Solid As Fuck (6:35)

Fool's Gold (5:46)

Babesonite (5:20)
Review: District of Columbia-based deep house imprint Better Listen has barely put a foot wrong since launching late last year. Predictably, their latest missive, which comes courtesy of rising star Dorsi Plantar, is another beauty. Title track "Everlast" opens proceedings via jazzy, jammed-out pino riffs, dewy-eyed electronic flourishes and dusty deep house beats, before "You're Solid as Fuck" re-focuses attention on a chopped-and-looped deep house/jazz-funk fusion. Flip to the B-side for the grandiose orchestration of disco-house pumper "Fool's Gold" and the near-Balearic sweetness of sun-soaked chunky house closer "Babesonite", which comes on like a disco-house enthusiast's tribute to Pepe Bradock's "Deep Burnt".
…

Read more
Played by:
Luv*Jam
,
Secret Reels
,
The Last Trip to Gandahar
,
RUSTAM OSPANOFF.
,
Replika (Quintessentials)
,
Jacques Renault
,
Thatmanmonkz (Shadeleaf Music)
,
Dave Allison (Editorial)
,
Superbreak
,
Monsieur Cedric (Serie Limitee)
,
Mike W - Kolour LTD
,
Juno Recommends Deep House
,
Osmose
,
Petr Serkin
,
Sleazy Beats Recordings
,
Rabo and Snob
,
Better Listen Records
,
25 Places
,
80's Child
,
Marsupials
,
The Silver Rider
,
Ari Bald
,
Sune
…

Read more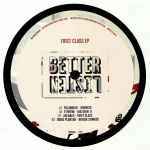 Cat: BLRVA 001. Rel: 18 Apr 18
Deep House
Folamour - "Oneness" (7:45)

Ethyene - "Watchin' U" (6:41)

Ari Bald - "First Class" (6:00)

Dorsi Plantar - "Boogie Sunrise" (6:00)
Review: Coming at you on vibrant pink vinyl, Better Listen's First Class EP more than lives up to its' title. Check, for example, the screaming sax lines, life-affirming orchestral disco loops and bumping bottom end of Folamour's brilliant opener, "Oneness", and the bouncy disco-house positivity of Ari Bald's edit-not-edit "First Class", which is guaranteed to put smiles on faces on out on the dancefloor. Dorsi Plantar successfully tries the same trick on to woozy, ultra-soulful bliss of swirling sunshine shuffler "Boogie Sunrise", while Ethyene's undulating "Watching You" brilliantly wraps eyes-closed synthesizer lines and glistening disco guitars around a leisurely mid-tempo house groove.
…

Read more
Items 1 to 3 of 3 on page 1 of 1