Items 1 to 2 of 2 on page 1 of 1
Cat: OD 2. Rel: 08 Jan 16
Electro
Arcanoid - "Amor" (6:46)

Arcanoid - "Silencio" (3:20)

Arcanoid - "Muerte" (3:37)

Diffuse Arc - "Miedo" (5:18)

Diffuse Arc - "Soledad" (9:31)
Review: Arcanoid and Diffuse track return to the Odio label - translated as 'hate' in Italian - with their highly singular and dreamy brand of machine-driven electro. The former lays down three tunes, the first "Amor" being a delicate, unwinding jam with sublime swarms of synth, followed swiftly by the beetless strings of "Silence", only to end up at the distorted, computerised rhythm that is "Muerte". On the B-side, Diffuse Arc chooses to go for something a little more light-hearted and house-driven in "Miedo" - still powered by a cold succession of beats and low tones - the same going for the acidic, wonky balance that drives "Soledad". Chilling, minimalistic, but inherently warm and soothing.
…

Read more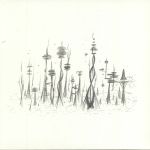 Cat: ILA 001. Rel: 12 Sep 17
Electro
Passenger - "Imperfect Tense" (6:40)

Caseer - "Intergalactic Suburb Area" (6:10)

Transonic Flow - "Reality Desintegrates" (7:00)

Diffuse Arc - "Ocean" (5:25)
Review: It is a brazenly retro affair that inaugurates new Parisian imprint Into Laniakea. The imprint is run by one Raphael Cesario aka Caseer: who previously headed up the label Unlearn which presented works over the last few years by Chris Mitchell and Walt J among others. 160 Mega Parsec is a lovely four tracker that adheres to the aforementioned aesthetic of dusty/lo-fi and classic sounds. Taking his cues from the timeless Windy City groove of the legendary Mr Fingers is Torino's passEnger, on the first side. Much like his EP for Tabernacle in 2015, "Imperfect Tense" is yet another sublime journey through analogue dreams. On the flip, strap yourself in for some breakneck, Drexciyan-electro shenanigans courtesy of Transonic Flow on "Reality Desintegrates" while Oscar Rodriguez returns as Diffuse Arc on the deep VHS styled memoir "Oceans".
…

Read more
Items 1 to 2 of 2 on page 1 of 1