Items 1 to 2 of 2 on page 1 of 1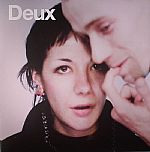 Decadence
(hand-numbered heavyweight vinyl LP)
Cat: MW 022. Rel: 14 Jun 10
Coldwave/Synth
Game & Performance (3:30)

Felicita (3:03)

Decadence (3:20)

Dance With Me (4:02)

Le Couloir (3:34)

Paris Orly (4:23)

Sex & Trouble (4:14)

Ministry Of Love (3:22)

Minimaliste (2:26)

Le Camion (5:27)
Review: Initially released in 2010, Minimal Wave's retrospective of obscure French '80s outfit Deux remains one of the label's most sought-after compilations. Here, it gets a deserved re-press, allowing a whole new generation of listeners to fall in love with the quirky works of the Lyon-based duo. The album's ten tracks, which were drawn from various obscure cassettes and seven-inch singles, effortlessly join the dots between moody electro, cold-wave, new wave and eccentric synth-pop, reflecting the pair's esoteric approach to wayward electronic pop. This second edition comes in a hand-numbered edition of 999 copies, with Minimal Wave's usual attention to detail present on the weighty packaging.
…

Read more
Cat: STH 2295. Rel: 20 Aug 12
Coldwave/Synth
Felix Kubin - "Japan Japan" (J Rocc edit)

Ohama - "The Drum" (J Rocc edit)

Mark Lane - "Who's Really Listening" (J Rocc edit)

Deux - "Game & Performance" (J Rocc edit)
Review: J Rocc steps up for the second and final installment of his Minimal Wave Tapes Edits, once again appearing on weighty vinyl and offering solitude for those DJs out there whose attempts to drop the likes of Ohama and Deux are frustrated by the inherent lack of quantized drum programming. J Rocc's edit of Felix Kubin's "Japan Japan" is a case in point, originally featuring on the recent second volume of The Minimal Wave Tapes, the rolling 4x4 electro groove that filled the opening bars soon mutated rhythmically into bastard vocoder pop. J Rocc wisely extends this opening loop before switching into the madness and then smoothing back into that groove. From here, J Rocc adds some extra weight to the titular elements of Ohama's "The Drum", teases out the inner uneasy primal techno workings of "Who's Really Listening?" from Mark Lane and f*cks about with Deux's "Game & Performance" brilliantly.
…

Read more
Items 1 to 2 of 2 on page 1 of 1