Items 1 to 3 of 3 on page 1 of 1
Cat: POLO 01. Rel: 29 May 18
Techno
Likeminded (7:35)

Intercept (5:00)

Mass Relay (8:03)

A Moment In Space (Piermattei edit) (3:01)
Review: Darren Jason NYE, or simply Darren NYE, is a UK rave-head through and through. The man has been involved in the larger house and techno scene since the early 90s, primarily as a DJ and promoter but has, in more recent years, released some cracking house and techno, levitated further by a conscious love for euphoria. He launches the new Polarity imprint with this white label 12", Excursions Into The Unknown, thanks to the help of two fat rum-machine tracks residing on the A-side - both killers if you're in the mood for some nasty percussion stabs! On the B-side, "Mass Relay" heads further into the deeper end of the house scale, coming through with a splendid symphony of distant synths, while "A Moment In Space" is edited by the lesser-known Piermattei, who proceeds to trim the original into vast pool of sonics and rhythm, all without a single kick-drum. Tip!
…

Read more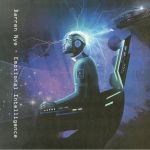 Cat: FS 010. Rel: 21 Feb 18
Techno
Things She Said (7:35)

Emulated Emotions (7:58)

Plasmid Soul (6:33)

Fragments (3:23)

Disconnected Reality (7:29)
Review: FireScope Records present Darren Nye, a UK producer who has been writing music since 1995. Emotional Intelligence is his first-ever vinyl release, which fully represents the label's ethos. An emotional and heartfelt work, it features influences from label heads B12 ("Things She Said") and other Sheffield or Detroit innovators. Be assured that there's proper contemporary techno with emotive Motor City vibes here, like on "Disconnected Reality" - an otherworldly ambient techno expression which will have you levitating into the cosmos. Elsewhere, there's the very deepest strains of electro in the form of "Emulated Emotion" or "Plasmid Souk" respectively.
…

Read more
Cat: NBL 001. Rel: 12 Apr 18
Electro
Stellardrone - "The Belt Of Orion" (6:23)

CCO - "Solar Nebula" (6:30)

Darren Nye - "Simulated Skyline" (4:23)

Holon - "A Forgotten Dream" (5:53)

Cignol - "Polywhore" (4:12)

MCMX - "Purple Sea" (7:03)
Items 1 to 3 of 3 on page 1 of 1