Items 1 to 2 of 2 on page 1 of 1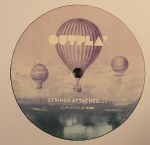 Cat: OUPLW 004. Rel: 13 Jan 16
Deep House
Laurence Guy - "Strings Attached" (6:10)

Junktion - "Breakfast At Midnight" (Brame & Hamo remix) (5:19)

Junktion - "Breakfast At Midnight" (5:19)

Daniel Leseman - "On My Mind" (6:15)
Review: Hans Peeman (Junktion) and Daniel Leseman's Outplay is strictly committed to spreading the gospel of deep house music and this sermon comes courtesy of the aforementioned, with a bit of help from Laurence Guy. He appears first with the title track, which samples a pretty breathtaking strings section mixed with a spangling Derrick May style synth melody which fades out and gives way to a pretty wicked arpeggio... and some cowbells; sold already? Next up is Junktion with "Breakfast At Midnight" an offering of deep and dusty late night disco that certainly takes its cues from KDJ, but that's totally fine by us. The Brame & Hamo remix is more dancefloor friendly, slo-mo deep house that fans of Genius of Time or MCDE will appreciate. Finally Leseman's "On My Mind" offers us another deep and dusty house gem that revels in its beautifully sombre Motor City vibes. Not bad for a guy from Utrecht!
…

Read more
Played by:
Jimpster
,
Secret Reels
,
Corbi
,
Replika (Quintessentials)
,
Jacques Renault
,
Closed Paradise
,
Thatmanmonkz (Shadeleaf Music)
,
Dave Allison (Editorial)
,
Superbreak
,
Chris Rhythm / SUPER MOTION
,
Martin Haberland
,
Mike W - Kolour LTD
,
Session Victim
,
Juno Recommends Deep House
,
Petko / Soul Print Recordings
,
Roy Comanchero
,
Caserta
,
Magnier (House of Disco)
,
Djs: Most Charted - Deep House
,
Martin Hayes (Mating Rituals Rec.)
,
Loz Goddard
,
80's Child
,
Khillaudio (Gents & Dandy's)
,
Shaka (KolourLTD, Balance Alliance)
,
Funkyjaws
,
Nachtbraker
,
Fouk
,
Masterworks Music
…

Read more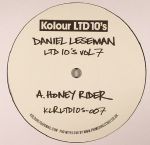 Cat: KLRLTD10S 007. Rel: 19 Jul 17
Deep House
Honey Rider (5:30)

Mr Scaramanga (5:41)
Review: When he's not busy in the studio or touring the world with his running mate Hans (Junktion) as Fouk, Daniel Leseman takes time for his own solo projects and Detroit/Houston's Kolour are pleased to release two vintage Daniel Leseman groovers on a piece of 10" vinyl for the seventh stop in their Kolour LTD series. On the A side "Honey Rider" sees the Dutch producer serve up a deep and slinky house cut, on the soulful and filtered tip. Some sexy synth work and boogie down vibes in full effect here. On the flip, we have got the low slung/slo-mo house of "Mr Scaramanga" which really brings the P-funk style to the max, accompanied by some dusty disco drums and spacey vibes for sexy times on the dancefloor.
…

Read more
Played by:
Secret Reels
,
Corbi
,
Replika (Quintessentials)
,
Fabietto Delgado (Melgado)
,
Jacques Renault
,
Goshawk/Rhythm Plate
,
Dave Allison (Editorial)
,
Chris Rhythm / SUPER MOTION
,
Monsieur Cedric (Serie Limitee)
,
Mike W - Kolour LTD
,
Juno Recommends Deep House
,
JKriv (Razor-N-Tape)
,
James Duncan
,
Petr Serkin
,
Better Listen Records
,
Massiande (Freerange/MOS/Phonica)
,
ESQUIVeL
,
Shaka (KolourLTD, Balance Alliance)
,
HEIGHTS
,
Ari Bald
,
Tilman
,
Fouk
…

Read more
Items 1 to 2 of 2 on page 1 of 1