Artists
Items 1 to 3 of 3 on page 1 of 1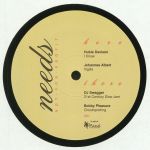 Cat: NNFP 001. Rel: 04 Dec 17
Deep House
Hubie Davison - "I Know" (7:04)

Johannes Albert - "Vigilia" (4:35)

DJ Swagger - "21st Century Slow Jam" (5:40)

Bobby Pleasure - "Cloudspotting" (7:34)
Review: Needs (not-for-profit) is a new label that aims to raise awareness about different issues within society with each release. Their first offering highlights the importance of mental wellbeing, with all profits being donated to mental health charity Mind, and calls upon a strong cast of deep house producers to impart the kind of Smallville-friendly sounds that discerning heads should snap up in a heartbeat. Hubie Davison's "I Know" is a melancholic affair with heart-nagging strings, while Johannes Albert injects a little spice into proceedings with a choice breakbeat and some excellent bird song on "Vigilia". DJ Swagger's "21st Century Slow Jam" is a peppy little shuffler with warm acidic bass and a kick ass swing in the beat, and then Bobby Pleasure finishes the record off with the wistful but tech-edged "Cloudspotting".
…

Read more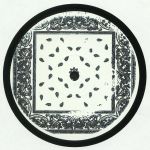 Cat: TYR 001. Rel: 27 Nov 17
Deep House
One (7:31)

Two (5:44)

Three (6:26)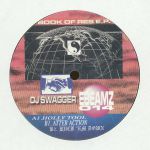 Cat: EBEAMZ 014. Rel: 02 Oct 17
Deep House
Holly Tool (5:02)

Atter Action (4:21)

Buck 'Em Down (5:58)
Review: Man-or-woman of mystery DJ Swagger has been making a lot of appearances on multi-artist EPs of late, often contributing fuzzy chunks of rave-influenced lo-fi house (very 2017). It's perhaps fitting, then, that the cheekily named artist's first solo EP for yonks is being released by E-Beamz, a label that specializes in both retro-futurist club tracks and dubious production aliases. A-side "Holly Tool" sees the swaggering one put ghetto-house through the intergalactic lo-fi house ringer, naturally beefing it up with some skittish breakbeats. On the flip you'll find the two-step garage revivalism of "After Action" and the scuttling techno madness of "Buck 'Em Down", which is propelled forwards by wobbly sub-bass and sweaty electronic motifs.
…

Read more
Items 1 to 3 of 3 on page 1 of 1