Artists
Items 1 to 2 of 2 on page 1 of 1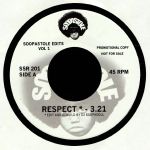 Cat: SSR 201. Rel: 20 Nov 17
Funk
Respect (edit) (3:23)

Dance Across The Floor (edit) (4:07)
Played by:
Ursula 1000
,
SOOPASOUL
,
Record Breakin' Music
,
Mako & The Hawk
,
Hubbz
,
Voodoocuts
,
Jay Airiness / Moar / Venice Beach
,
Osmose
,
I Love 45's!
,
Skyline Recordings Chart
,
Nick Bike
,
Djs: Most Charted - Funk
,
Originals
,
45 Live
…

Read more
Cat: SSR 202. Rel: 23 Oct 17
Funk
Kool & The Gang & Gene Redd - "Give It Up" (DJ Soopasoul edit) (4:04)

Aretha Franklin - "Rock Steady" (DJ Soopasoul edit) (3:29)
Review: Jalapeno jive maestro Soupasoul has been a busy funkateer this year. Not least with this impeccable edit series. Subtly resculpting funk standards and forgotten classics with full emphasis on the breaks they blessed us with, every single "45 has been a dancefloor riot... Not least this jam hot take on "Give It Up" and "Rock Steady". The former is full focus on the tight horn Q&A and those classic jazzy swoons on the chorus while the latter is all about Aretha's gutsy vocals and that killer breakbeat. Only 250 copies pressed... Soop soop!
…

Read more
Items 1 to 2 of 2 on page 1 of 1