Artists
Items 1 to 2 of 2 on page 1 of 1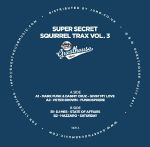 Cat: GM 46. Rel: 29 Jan 18
Funky/Club House
Mark Funk & Danny Cruz - "Givin' My Love"

Peter Brown - "Funkosphere"

DJ Mes - "State Of Affairs"

Hazzaro - "Saturday"
Review: REPRESS ALERT: You just can't beat those Super Secret Squirrel Trax releases on Guesthouse, one of the most sizable house labels operating of the Bay Area. On this third installment, Mark Funk and Danny Cruz keep things live and direct with the impassioned soulful house of "Givin' My Love". Peter Brown then slides in with the tracky pressure of "Funkosphere", which comes with added flute for good measure. DJ Mes also strikes a headier groove, but teases the ingredients on "State Of Affairs" out into an effervescent peak time floor filler, and then Hazzaro brings it home with the rallying, roller-skate call of "Saturday".
…

Read more
Cat: GM 48. Rel: 05 Feb 18
Deep House
Prince Dred & Bunny Sigler - "Freak Like Me" (DJ Dan mix)

DJ Homewrecker - "New World In My View" (Saison remix)

DJ Mes - "90s Groove"

Rescue - "Here & Now"
Review: Another fully stacked sampler from Guesthouse Music's All-Star line-up. A selection of #1 tracks from Saison, DJ Dan, Prince Dred, Bunny Sigler, DJ Homewrecker, DJ Mes and Rescue. You'll find a little something for everyone on Super Secret Squirel Tracks Vol. 4





…

Read more
Items 1 to 2 of 2 on page 1 of 1