Items 1 to 3 of 3 on page 1 of 1
Cat: 117EP 004. Rel: 03 Nov 17
Drum And Bass
Dream World (5:37)

Ecstasy (5:57)

Sound Odyssey (7:27)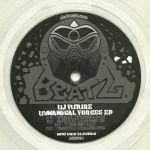 Cat: AKOB 014. Rel: 12 Jun 18
Drum And Bass
Rebel Technology (with Eric Electric) (6:43)

Outside Looking In (5:58)

2 Pound Bet (6:53)

Twisted Fragments (with Eric Electric) (6:16)
Review: Previously spotted on 117 and Skeleton, DJ Future dents the AKO discog with four absolute jungle hell raisers. The doubled up drum slams on "Rebel Technology" will take years off your life and hairs off your head, "Twisted Fragments" plays the mentasm at a grade 10 level and "2 Pound Bet" wants to smother you in dubbed out horns and warm sweaty skanks. Need a cooler? Jump on the sweet soul of "Outside Looking In" and feel the sensual breeze. Welcome to the future.
…

Read more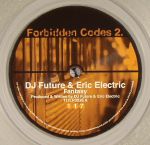 Cat: 117LP 003S. Rel: 29 Jan 16
Drum And Bass
DJ Future & Eric Electric - "Fantasy" (6:54)

Tactical Aspect - "Interference" (5:56)
Review: Trace's 117 imprint continues its historical future sermons with two classically trained contemporary jungle cuts. Future and Electric is a classic rave hammer cut: pneumatic drill kicks, a lavish gutsy soul vocal and spooked out Headz style bass. Tactical Aspect's "Interference", meanwhile, is a turbo charged roller that's loaded with crisp hi-hats, about six different bass textures and devilishly diced drum work. Got 187 on your mind? Sooth your demons with 117.
…

Read more
Items 1 to 3 of 3 on page 1 of 1