Artists
Items 1 to 1 of 1 on page 1 of 1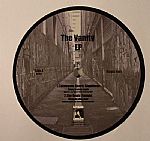 Cat: MF 011. Rel: 28 Jul 14
Disco/Nu-Disco
Catalepsia - "Quartz Giaponese" (Craig Bratley remix)

The Souls - "Tonight" (Craig Bratley dub)

Craig Bratley - "Obsession" (Hardway Bros remix)

Four Walls - "No Use" (Craig Bratley remix)
Review: Up next on Craig Bratley's Magic Feet label is The Vanity EP.

This release is aimed at the vinyl enthusiast and features four remixes which have so far been unreleased or received a digital release.

The EP contains three remixes by Craig, Catalepsi's 'Quartz Giaponese', The Souls 'Tonight' and Four Walls 'No Use'

as well as the sought after Sean Johnston remix of 'Obsession'.
…

Read more
Items 1 to 1 of 1 on page 1 of 1